Hope Mill Theatre is quickly gaining a reputation in Manchester for staging fantastic productions, and Things of Darkness from Out Of Kilter Theatre continues that trend. I especially like how the space is able to transform to accommodate all types of shows. However, I must address that the venue had a severe health and safety issue and was very lucky a member of audience wasn't injured. On the right side of the audience in the back row, there is quite a large hole in the floor. As the lighting is so low people were unable to see the gap! There was no sign or warnings of this, it was a miracle no one was injured.
The actors were already on stage when entering the theatre; a woman tending to an injured man in a wheelchair. I found the first scene a little dull and wasn't expecting much from the production from that point. But then Faery (Sophie Coward) arrives like a pocket rocket, full of energy and makes me sit up and take notice.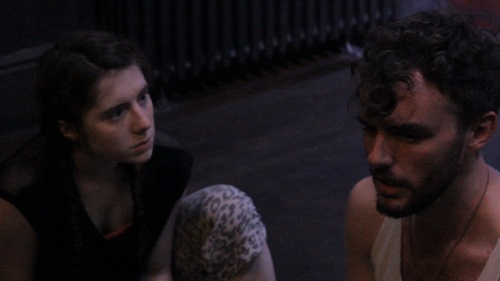 The only slight critique I have of Coward is that at times she's too excited that her speech becomes too fast and inaudible.
Due to limited space some of the action occurred very close to the audience in the front row. As I was sitting near the back I missed it all. In fact a person sitting in the row behind me stood up to see what was happening.
If I was going to sum up 'Things of Darkness' it would be Shakespeare meets Game of Thrones. I don't think this play is for everyone, but I think there will be people who will absolutely love it.
Reviewer: Francis McKevitt
Reviewed: 13th July 2016
North West End Rating: ★★★