I was quite surprised when the star of this one man show, Jon M Coleman, appeared at the door of the upper theatre at the Kings Arms in his undies to sell tickets. I didn't know where to look... only where not to look. In the auditorium Walk Like A Man by the Four Seasons was playing on a loop. On the stage there was an inflatable doll in a big wig wearing a football strip… OK. A mannequin dressed in a shirt and tie... OK. Both typical male uniforms… And hanging in the middle a red spangly evening dress....
Jon comes onto the stage... Complete with pants. The first thing he tells us is that this show will fail. He pauses. He surveys his audience. It's intense and uncomfortable. He really sounds like he means it. "It will fail because… while we may walk away tonight with an answer, it won't be the answer." Profound. In pants.


He's privileged, he tells us... Not, as you might expect, to be here performing for us (in a state of partial undress) but because he's a middle class, heterosexual, white male: the most privileged of the privileged groups. He loves being privileged and he enjoys all that comes with it, though he also seems to feel guilty, as we live in a patriarchal society where women earn less than men. Except for strippers, apparently. Female strippers earn far more than male strippers. (He doesn't say this, but I think that's because men go to see female strippers to lust after them, whereas women go to see male strippers to laugh at them. So no equality there.) We are introduced to Jon's two companions, who – thanks to the magic of Dictaphones – will assist him with the show. The footballing inflatable doll in a wig is called Leo and the tie-wearing mannequin is called Manfred.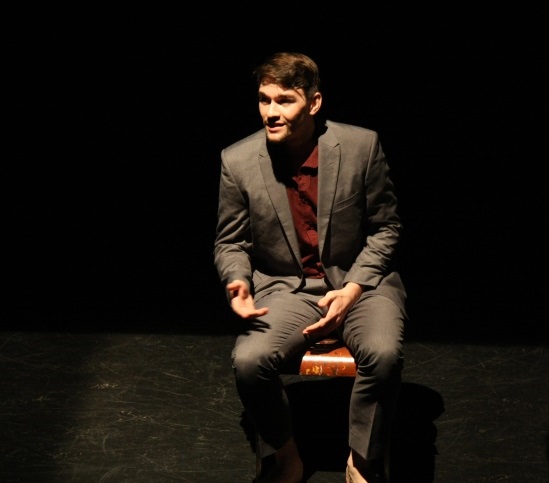 Jon slips the spangly red dress on and bemoans the fact that people stare when a man walks down the street wearing traditionally female clothes. He is forced to remove the dress after a ribbing from Manfred and Leo. Unfortunately the acoustics for the Dictaphones aren't great, but we're still able to make most of it out.
Jon talks us through a step by step guide to how to give the perfect man hug (remember to keep the faces apart and always slap or punch the back). He later assumes the role of a barber, shaving poor Manfred, who reveals he is undergoing a sex change and discloses all the upset it has caused... It starts out surreal and ends up rather sad.


The bizarre climax of the show has Jon losing his temper (very convincingly) and wrecking the props on the stage… Leo and Manfred don't come off too well… Although it isn't stated, I thought this was clever, as men lose their temper and get angry and sometimes get violent.
There is more truth and science in this piece than there is comedy. Jon's website claims the show "aims to explore the crisis of masculinity… male privilege and gender identity". I was expecting an hour of comedy making fun of men, male rituals and so on, but instead this is challenging, thought-provoking, poignant and sometimes sad. There is humour in it, but I wouldn't call it a comedy.
Whether you agree with what he's saying or not, Jon M Coleman delivers his message earnestly, with gusto, with conviction. He is a confident and likeable performer and very engaging; he makes you listen. He's a top man.
Reviewer: John Wood
Reviewed: 26th July 2016
North West End Rating: ★★★