The title of this play perfectly describes the two contrasting worlds depicted in this riveting First World War drama. Set in Salford and on the Front line the play follows the fortunes of a group of friends who enlist with a local Pals regiment and the women they leave behind.
Presented as part of The Greater Manchester Fringe, the production opened with added poignancy on the actual 101st anniversary of the first day of the Battle of the Somme. The play is based on true events and is dedicated to the 21 officers and 449 men from the 1st Salford Pals who were killed during the first hour of fighting.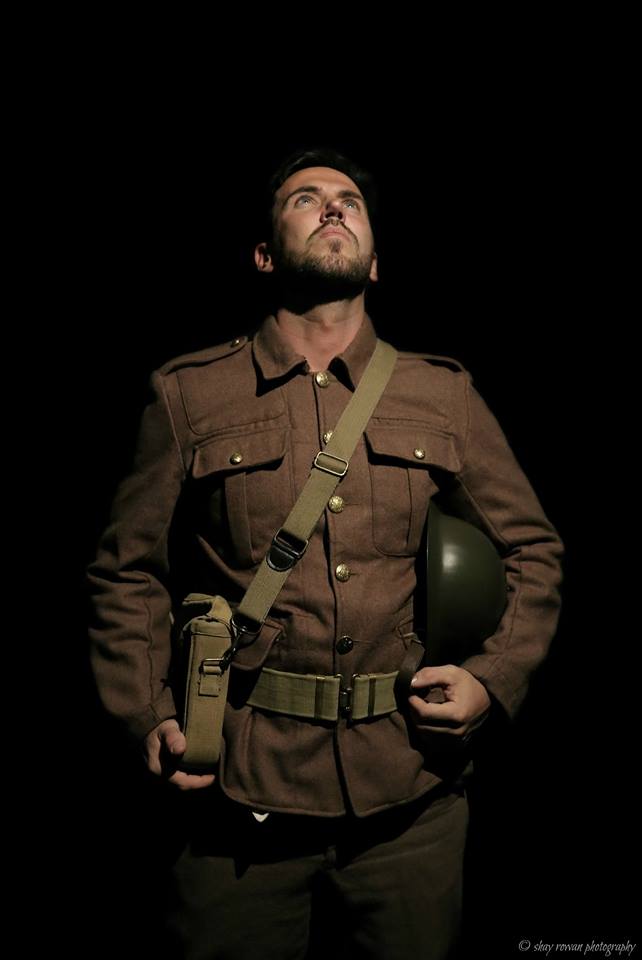 At the heart of the play is a tender and touching love story between Mary, a blind young woman and her boyfriend John, who she meets on the same day that he enlists with her best friend's husband, William. The first half of the play is taken up with showing how the men prepare for the realities of War and similarly how at home the women cope in their absence. Over 70 absorbing minutes the play builds towards its inevitable conclusion and although the ending is never in doubt when it comes, the news of the young men's deaths is hard hitting and deeply moving.
Written by Danny Clifford, who also plays the central role of John, From Heaven To Hell, has much in common with other plays written about The First World, notably The Accrington Pals. What makes this play standout is the way that the central love story dominates and powers the dramatic action both at home and in Northern France. Although they are only on stage together for a small amount of time Clifford and Rebecca England as Mary are completely believable as a young couple, who in the midst of ensuing turmoil and facing imminent separation hastily fall in love. It is an enduring love which becomes a symbol of hope amidst the bleakness and wretchedness of War.
TV and Stage actor, Sue Jenkins directs with a firm and assured hand and makes good use of the Salford Arts Theatre's compact stage. As John's friend, William, Peter Ash, gives a bravo and gutsy performance. On the eve of battle when William loses his courage and suffers acute shellshock, Ash portrays the character's breakdown to devastating effect.
With the 100th anniversary of the end of the First World War only a year away it is timely to be reminded of the ultimate sacrifice that was made by millions of men on both sides. Appropriately the play finished with the playing of the Last Post, a fitting tribute for all those brutally slaughtered at the Somme and on other battlefields in Europe and beyond.
From Heaven To Hell continues until Monday 3rd July. http://www.greatermanchesterfringe.co.uk/index.php?id=1
Reviewer: Richard Oliver
Reviewed: July 1st, 2017
North West End Rating: ★★★★