I was very much looking forward to seeing 'The Salford Belles' as it promised a good helping of comedic Northern grit from three strong Northern women – akin to Ena Sharples, Minnie Caldwell and Martha Longhurst.
I am sorry to say that I came away feeling disappointed.
The play is described as a comedy and there is comedy but some of the one liners fell rather flat and at times, felt awkward. I did also feel that the writer (Jack Land Noble) was 'shoehorning' in as many Northern sayings as he could to remind us that we were watching a Northern comedy but I wanted more than just euphemisms with Greater Manchester place names put into them.
There were funny moments at which everyone laughed but in a two act comedy, you expect more than just the odd one here and there.
The story revolves around Queenie (Alison Carlin) and her two daughters, Mary (Sarah Maher) and Martha (Sophie Ellicott) who all live under the same (Salford) roof, together with Mary's son, Bernard (Joshua Lewindon),(look out for him selling programmes prior to the show - in character)).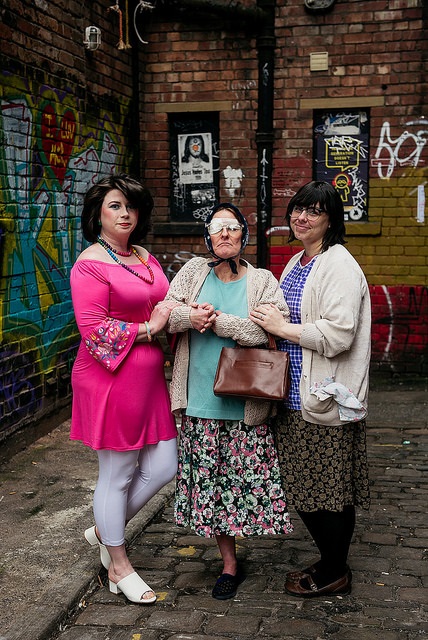 There was a lot of scope for some really good, acidic Northern wit, delivered in sharp style. True, there were one or two lines which made me chuckle and were delivered well but I just felt that a lot of it was a rehash of other jokes and quips which have been heard before and there were not many original ones. I also felt that Queenie's character was a poor imitation of Mrs Brown (as in 'Mrs Brown's Boys'). This is no disrespect to Alison Carlin who played the part well and deserves an award simply for allowing herself to look like Queenie!
The play begins with a narrative which is overly long and difficult to hear. I didn't really understand the point of it and it wasn't necessary. We are then introduced to the characters: Queenie is the matriarch: crude, loud and with no shame at all. I felt her character could have been developed a lot more and was lacking in the dominance that you would expect to see in this type of woman. The writing relied too much on crudity rather than clever lines.
Mary is the downtrodden, taken for granted daughter who runs the household and cares for everybody. She is careworn, world weary and has a recurring dream of her true love which she talks about, not always to anyone in particular. (I'm not sure these moments of attempted pathos worked particularly well most of the time as it seemed a little forced and at odds with the crudity and brashness of most of the other dialogue).
Martha is the more glamorous of the two sisters, quite raucous yet very likeable. I liked the rapport between her and Mary. There was also a touching moment between the girls and Queenie when they sing to a record together.
We are introduced to Leonard (Seb Shaw) just before the end of Act 1 and his character was convincing and amusing.
Act 2 was an improvement on Act 1. There was more humour and a couple of laugh out loud moments.
A few technical glitches led to some awkwardness – at the end of Act 1 and at the end of the play itself, we were left in the blackout for a little too long and it wasn't clear that it was the end until someone backstage started to applaud. Some of the blackouts between the scenes were also overly long.
The story itself isn't particularly compelling and I feel the writing and some of the direction could be a lot tighter as there were some long gaps where nothing happened.
I really wanted to like this play but I'm afraid it just didn't work for me. I had expected to see something which was reminiscent of a cross between a Victoria Wood sketch and an episode of vintage Coronation Street but I was left feeling very let down.
Reviewer: Nicky Lambert
Reviewed: 17th July 2017
North West End Rating: ★★