Tonight, I shook hands with and chatted to Boris Johnson - and found him rather likeable.
No, not The Boris but David Burchhardt playing Boris in 'Boris The Musical' - a very politically aware, satirical musical which is apparently the musical "for people who don't like musicals".
This is a fast paced, 75-minute show which races us through Boris's school and University years through to modern day with Brexit and the General Election 2017. Oh - and there's a dodgy blond wig. A VERY dodgy blond wig.
The subject matter implies that the show doesn't take itself seriously - and it doesn't - but this is a very cleverly written, politically aware show and you need to be quite politically aware to understand all the humour. It's very 'fringe'. Some of it went over my head but it didn't really matter because the comedic performances were entertaining in themselves.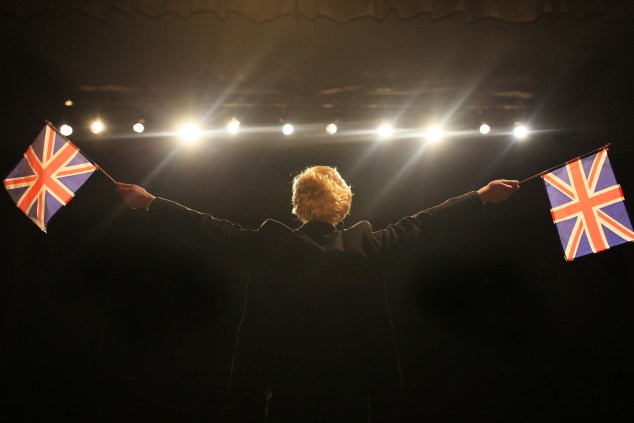 Boris clearly loves himself (and I thought musicals were supposed to suspend reality...?) and likes to think of himself as a love god (heave). This is particularly well demonstrated in the Tango style song "Me and My Johnson" which was very funny - complete with gyrating hips and pelvic thrusting (further heave).
David Burchhardt as Boris Johnson is a little powerhouse (tonight a Northern Powerhouse...get it?) of energy and animation. Not only did he do a meet and greet in the bar before the show (telling me that he'd never heard of my home town of Stockport and that he thought 'Hulme' was pronounced 'Hulm'), he then flew upstairs to lean over the balcony and tell us all to get into the theatre. He also waited outside to thank people for coming - all done in typical BoJo style obviously. I thought this was a really funny (and slightly intimidating!) touch. During the show, his facial expressions, comic timing and hilarious way of getting from one side of the stage to the other had me in stitches. He also really sounds like THE Boris.
Liz Kearney and Polly Bycroft-Brown played the parts of Michael Gove, David Cameron and Theresa May. The characterisation of each of the characters was inspired, particularly Theresa May during the newly added section of 'GE17'. I really enjoyed watching them.
This is a self-confessed very low budget show with no set except for a pair of gold curtains (used to great effect). Don't be fooled, however: this is a polished performance from all involved.
I particularly liked the short homage to West Side Story, complete with finger clicks and also the final song (in the style of the dramatic 'Carmina Burana' or for those of us who were around in the 70s - The Old Spice advert) which centred around Theresa May and asked of her "do you even have a clue" - something which I think most of the country would echo...!
The sound needs some improvement (or microphones!) as a lot of the lyrics were quite difficult to hear. If you can't tell what's being sung, you miss a huge proportion of the comedy and the songs were very clever (what I heard of them).
This is a production by Blowfish Theatre (written by Laurence Peacock (look out for him as Jeremy Corbyn) and directed by Kyle Williams) and their next offering is to be - wait for it - Trump The Musical. I'm sure it will be every bit as hilarious as Boris. Can't wait to see the wig as it couldn't possibly be any worse than the real thing...could it?
This show could be considered to be therapy for those who are sick and tired of the antics we see every day which masquerade as politics - and it's cheaper than booking a session with a counsellor so get it while it lasts - it runs at Z-Arts as part of the Manchester Fringe Festival until Saturday 29th July.
Reviewer: Nicky Lambert
Reviewed: 27th July 2017
North West End Rating: ★★★★