According to the promotional material, "Janet" is a "poetically performed tragi-comedy… A quirky look at trying to defy the inevitable… A show for anyone who has tried to battle destiny". Great. Sounds like a recipe for life.
A trestle type table occupies the stage, containing a metal water jug, a bag of flour and other kitchen objects. The cook/host/animator emerges, complete with white chef's hat and napkin-covered face with facial features crudely drawn on it. It is truly absurd and strangely unsettling, more frightening than many a latter-day Doctor Who monster.

Animated by the sketched face creepy cook, the water jug, Keith, and the bag of flour, Beryl, begin to flirt outrageously. Keith has a deep voice, speaks slowly and sounds a bit simple. Beryl is French and has the accent of a femme fatale; she is at first flirtatious and coquettish. To be honest, I feel she leads Keith on, but he's too stupid to notice.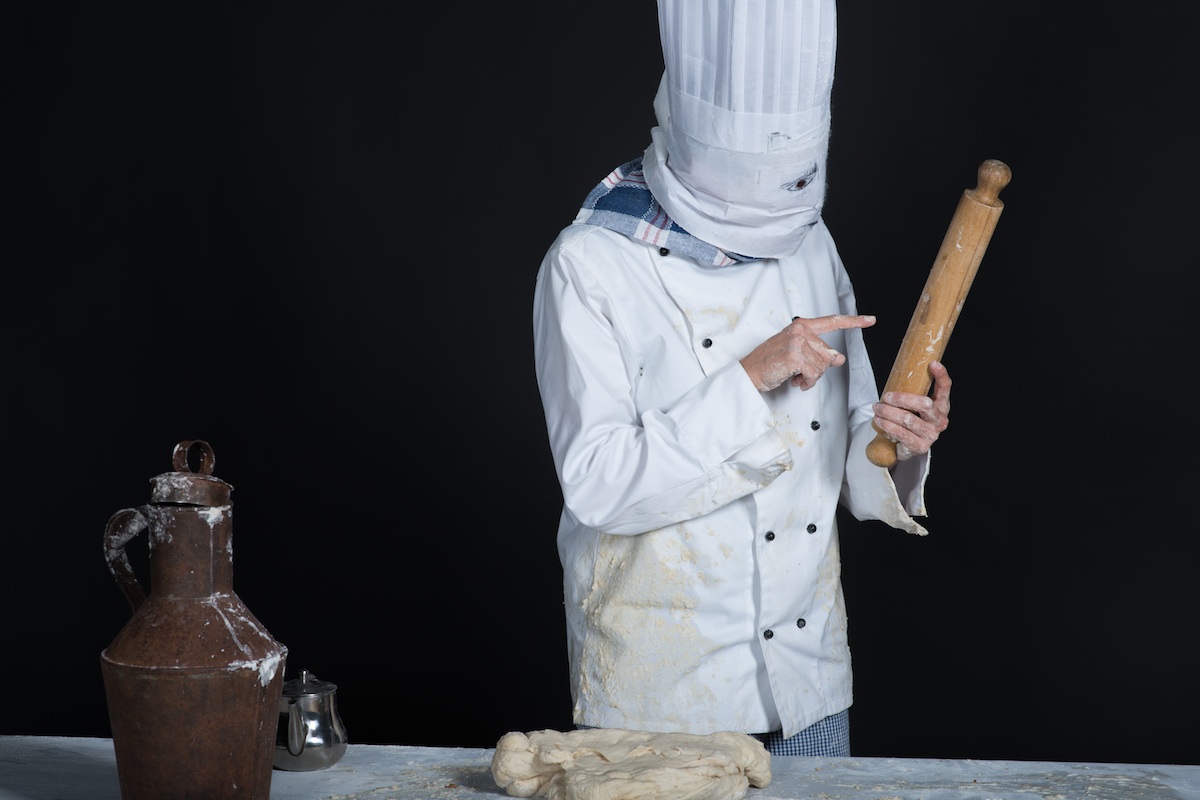 A torrid romance ensues, which is soon consummated with an orgasmic flurry of flying flour and water. The fruit of their loins is a mushy pile of dough, which they christen Janet. To her father, the rough-voiced Janet is beautiful, but to her now-selfish and overwrought mother, she is ugly.

Janet's destiny is already decided. She will be baked in a hot oven and become a bread product, but Keith wants his daughter to become an honest-to-goodness bloomer or a solid farmhouse loaf, while Beryl has lofty French aspirations and wants Janet to be a dainty and affected croissant.

"Thank God for Brexit...." Beryl hisses, bringing topical politics into the mix. "I won't have to eat your British shit anymore!"

Janet is pulled this way and that by the expectations of her parents. She doesn't know what she wants to be, but she knows what she doesn't want... And the hot oven isn't on her bucket list.

There are many parallels with real life in this bizarre enactment. Adult themes of relationships, living vicariously through your children, transformation and suicide. (It all gets too much for Beryl and throws herself from the table).

Sensitive readers may want to look away now. There is more gratuitous sex, when Janet has a three-way with two French sticks, Claude and Francoise. She then has a roll with Derek the Rolling Pin, and she literally goes to pieces when he leaves her. So many life lessons on display here! Behind the simplistic talking objects and food fight facade there are constant reminders of our cruel and brittle world.

Janet is truly bizarre. Some moments are very witty and the objects are imbued with quite distinct characters. Ideally, I would have preferred it to be a little shorter. For me, it was a fraction overlong for the style, rather than it lacking in content. My main complaint though is the smell of dough, which started to make me feel sick after a while. At the end someone wafted around the dark auditorium spraying (what I assume was supposed to be) a scent akin to baking bread, but it smelt like week-old boil-in-the-bag ham.

That should be a clue to the denouement, as Beryl might say. I don't want to spoil the plot, but it doesn't end well for Janet. At the end of the piece she is served up to the audience as sandwiches. But for her short life, Janet rose to the challenges that faced her and became more than the sum of her ingredients.

Janet is either a deeply philosophical, kitchen-based text on absurdist principles, including suicide as an escape from existence… or a messy bit of cookery fun. Or both. Or possibly neither. Alternatively, it might just be a woman wearing a napkin over her face portraying sex between consenting bread products. Either way… It's something very different.


Reviewer: Gray Freeman
Reviewed: 9th June 2018
North West End Rating: ★★★★