In Greek mythology, Antigone is the daughter of Oedipus and his mother, but that's a whole other story. Here, the Greek tragedy is transposed onto a future – but all too familiar – version of the Irish Troubles. The name Antigone, means "worthy of" or "in place of one's parents", which is very significant as this story unfolds.
Set in Ireland in the very near future, post Brexit, Ireland is again a divided nation. Eldest sibling and matriarch, Annie – played with such beautiful conviction by Jenny Quinn – is stirred by her religious conviction to try to resurrect a version of the IRA, which her father and uncle were previously heavily involved with. Her father disappeared and her uncle (Les Fulton) now follows the Sinn Fein respectable political path. Annie is effectively adopting the role of Antigone and following in her father's footsteps.
Along with her sister and two brothers, brilliantly played by Emer Conway, Charlie Angelo and Peter Morrison, Annie sets about painting slogans and murals around town and plans to use a box of Semtex bequeathed by their father to wreak memorable havoc.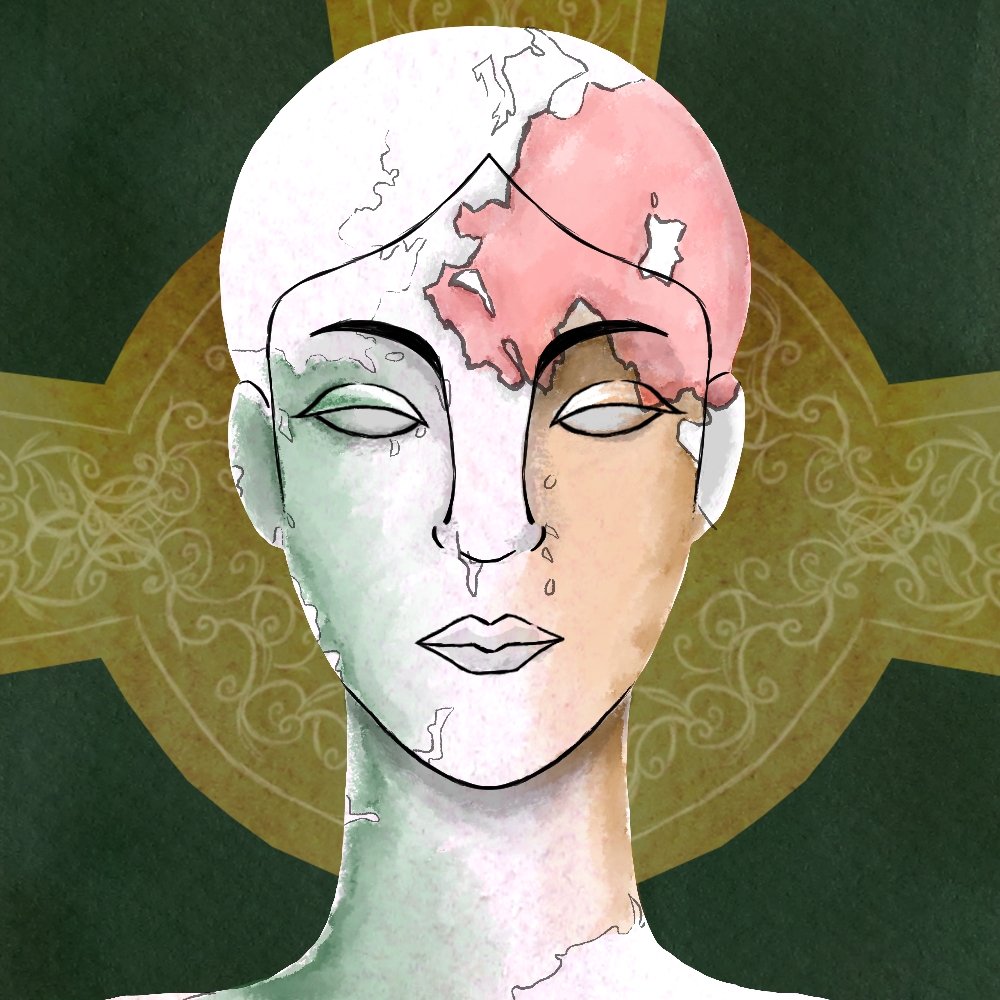 The play opens with the whole cast soberly intoning the Lord's Prayer... In its entirety. This underlines Annie's convictions and sets the sombre tone of the piece. Her siblings, while they are all working towards the same goal, are all coming from slightly different perspectives, such as Marxism, and they squabble about all aspects of their campaign. They are aided and abetted by an eager and well-connected young revolutionary with a secret (Serena Doran) and their reluctant cousin (Thomas Mugglestone).
The story becomes quite complicated, with the involvement of outsiders and multiple double-crossings and murders. I got a bit confused by the inter-politics, but the gist is always obvious. I felt it could have been tighter at the beginning, but the pacing, atmosphere and devastating quiet at the end is brilliant and the auditorium was electric with palpable tension.
The Greek origins of the play are honoured by the repeated use of masks (sometimes instead of the more typical IRA balaclavas) which is eerie and unsettling, but also quite artistic and a very nice touch.
As always with Fringe, you see things you might not normally see, where you may be challenged, taken out of your comfort zone and made to sit up and take notice. Antigone na h'Eireann did all this and more. It isn't lightweight entertainment by any means and no one will be walking away happy. It is tragic, violent, disturbingly true and honest and thought-provoking.
For me though, this harrowing tale was made all the more memorable by a group of first class actors. I later heard one fellow reviewer saying that he found it "raw". I couldn't disagree more. For me the performances were the main strength of this haunting piece. The Irish accents sound very authentic and all the characters are clearly delineated. Everyone is convincing and full of conviction, ably conveying anger, aggression, naiveté, fear and defeat.
The play is intelligent and memorable, but the actors are mesmerising.
Reviewer: Gray Freeman
Reviewed: 9th July 2018.
North West End Rating: ★★★★