Little Shadow Theatre Company stopped off at 53Two tonight for the first of two nights in the Pod performance space. Artistic Director Joe O'Neill has written and directed 6 pieces of new writing under the collective title of The New Irish Playbook all of which were presented this evening in a varied yet enjoyable 60 minutes.
Along with O'Neill performing this evening were Lesley Moore, Adam Tyrrell, Kendal Kennedy, Kieran McDonnell, Mary-Pat Moloney and Conor Hanley. What is very obvious is these seven are an incredibly talented group and it is clear many hours of rehearsal had gone into perfecting their individual and group performances.
The 6 pieces, 2 monologues and 4 short plays varied greatly in their subject matter and did not seem to follow a theme, other than all being set in Ireland.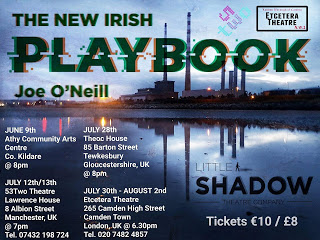 First up was "Coming Out" where Sean (Tyrrell) struggles to tell his parents, especially his father a huge secret. Second up was "Twenty Minute Waiting" with O'Neill and Moore which was an amusing look at just what can happen whilst waiting for a pregnancy test kit to reveal its news.
The first monologue of the evening saw Tyrrell in "I'm The Hero" which successfully blends together Spiderman and Guinness. Next, "Our Child" performed by Kennedy, Hanley and O'Neill was my standout offering of the night. Imagine if just finding out the sex of the baby you are expecting wasn't all you could tell. This was so well written and laugh out loud funny.
The second monologue followed with O'Neill returning with "Ignorance in Riches" an interesting look at racism.
Finally, and the longest piece of the night was "In The Garden of The Engagement" where Hanley and Moore play two strangers who have popped out of an engagement party for a cigarette only to discover they have a lot more in common than they realised.
As I mentioned earlier, this was an enjoyable evening. My only comment is that the final piece was far too long in relation to the rest of the pieces. Reducing this and extending "Our Child" would make for a perfectly balanced evening.
I must finish by congratulating Little Shadow. Very few productions this month at the Fringe to date have provided a printed programme to accompany their shows. Whilst I understand there is a cost element involved here, even a cast sheet or an online link to the same as 53Two do so well would help myself and fellow reviewers when compiling our thoughts.
Reviewer: Paul Downham
Reviewed: 12th July 2018
North West End Rating: ★★★★