Flushed is a new play from Theatre Unlocked featuring a youthful cast. Written and directed by Catherine Cranfield, a recent graduate of the University of Manchester and cast members Georgia Phillips (Marnie) also are a recent UoM graduate and Harriet Rose Millsopp (Jen) who recently graduated from ALRA.
The play is a two hander featuring sisters; Marnie and Jen. Despite being the best of friends they are quite different in personality - Marnie is quite determined and responsible, whereas Jen is carefree and happy go lucky.
As the play progresses Marnie starts to feel unwell and is later diagnosed with premature ovarian insufficiency, which basically means she's going through the menopause at the age of 24, and even more devastating that she will never be able to become pregnant.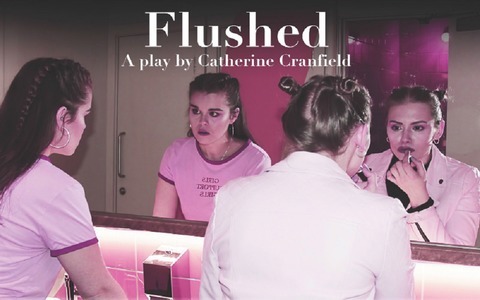 Flushed is a very naturalistic piece and focuses on comedy, in what would otherwise be a very dark and depressing play. The comedy is ok, you're not going to wet yourself laughing, but it certainly keeps the tone positive. Millsopp is responsible for the majority of the comedy here, which is a lot of pressure on one actor, and at times her delivery faltered, but I think this was a mixture of writing and delivery. Some of the lines I think more emphasis should have been placed on got thrown away, and there was a 'joke' that took a lot of build up and in the end the pay off wasn't worth it for me.
Interestingly the entire play is based in bathrooms, whether that be a cubicle in a nightclub or the pair's bathroom at home, the action chops and changes into different bathrooms, which was interesting to watch. It's a very minimalist set - 2 toilets and a strip of lino, which works for the setting of the piece.
There were a couple of occasions when the script and performance felt very rehearsed. That's not necessarily a bad thing, but the piece didn't really have any spontaneity and I have a feeling if I went to see Flushed on a different night I would have watched the exact same performance.
An enjoyable thought-provoking show, that helped me learn something new. However, I do think there are some elements that could be improved on.
Reviewer: Brian Madden
Reviewed: 16th July 2018
North West End Rating: ★★★