This Wide Night, written by Chloe Moss, is a gritty two hander piece between Lorraine and Marie. On Lorraine's release from prison she heads straight to Marie's, her ex-cellmate and once close companion. The reality of freedom proves to be more daunting than they care to admit to themselves or each other, and the bond these two women have found in each other is put under strain.
As the play unfolds we see the women struggling to adapt to life in the "real world" while they try to find their place within it.
Originally premiered at London's Soho Theatre in 2008, Big Blanket Productions (a new innovative female theatre company passionate about bringing women to the forefront of theatrical performance) have brought Moss' play to the Greater Manchester Fringe for its 10 year anniversary.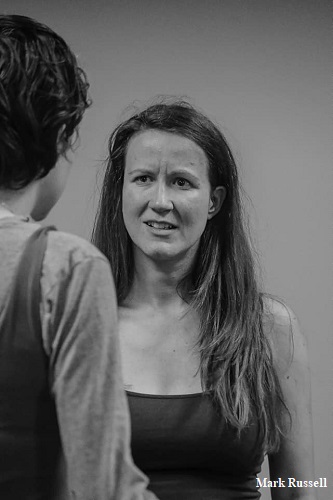 The Vaults at The Kings Arms were the perfect setting for Marie's bedsit - the basement surroundings created a rugged ambience. The intimate nature of the venue meant the audience felt like they were sat in Marie's bedsit alongside the characters which created an engaging experience. Even with the play being set in one room, there was plenty of connection to the outside world with Marie and Lorraine coming and going, and the actresses shifting the atmosphere accordingly. The scene changes were managed sufficiently by lighting changes (NorthSouthCreative) and music (composed by Daniel Pyke).
Amy Forrest and Stevie Skinner had a superb connection as rough-but-loveable Lorraine and sarcastic-and-hard-faced Marie that the audience rooted for. Forrest and Skinner bounced off one another with excellent comedic timing, and there were many humorous moments for the audience to enjoy. This being said, a large portion of the play required much more vulnerability and emotion, which both performers provided with abundance. Both Forrest and Skinner gave extremely strong performances throughout, under the careful direction of Amy Liptrott.
This one act play provided a captivating performance and altogether an entertaining evening.
Reviewer: Becky Mottershead
Reviewed: 18th July 2018
North West End Rating: ★★★★