The Thermos Museum was recommended to me enthusiastically by someone that showed me their Thermos Museum themed postcard and badge. Assuming this was the same museum that was all the way in Edinburgh and keen to get my own postcard and badge, I was thrilled to find out it was 'on tour,' and heading to The King's Arms, Salford for the Greater Manchester Fringe Festival.
On arrival the tour guide seemed reticent and surprisingly not very enthusiastic for me to go on the tour stating nervously that it was 'all over the place.' Undeterred we headed for the theatre pubs garden where I spotted a globe with several thermos flasks crudely attached to it. Walking to the garden I couldn't help noticing there were many thermos flasks strategically placed all over the King's Arms, which I could only assume must have taken ages to do. The globe it turns out is broken and should be revolving. The tour guide convinces us by showing inside the battered suitcase it is standing on to see an intricate mechanism underneath, it seems he says that some young children had been tampering with it and had also stuck some chewing gum to it.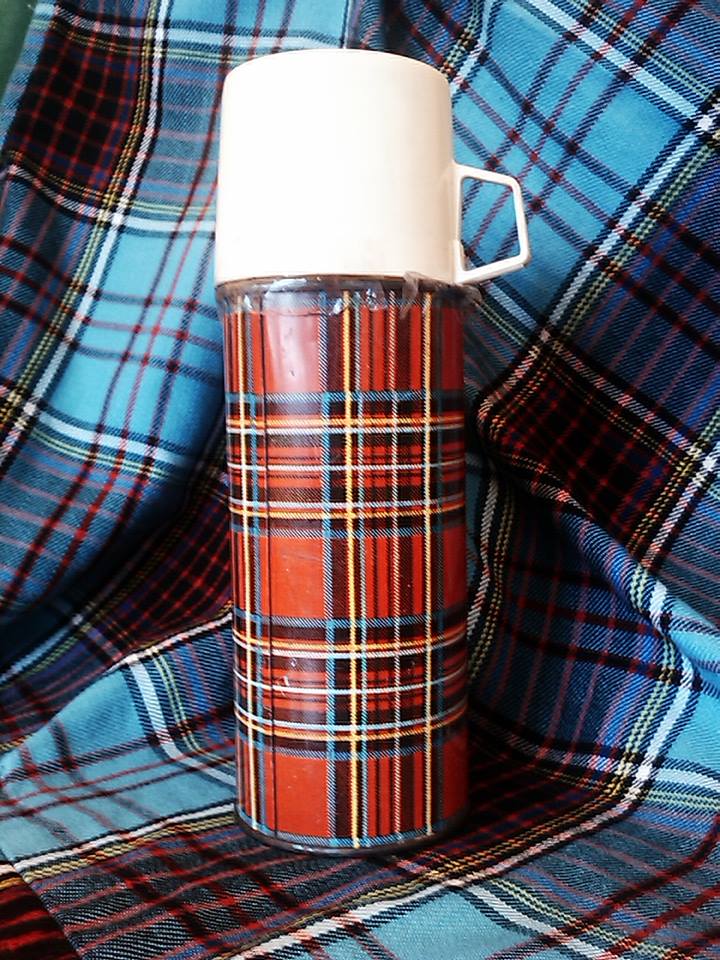 I admit I had been enticed by the flyer for the tour which had promised that you would 'learn nothing,' on this tour. However, I was disappointed to learn quite a few interesting facts such as the date for the thermos is on the bottom of the flask, and that the tour has been to quite a few unique venues such as a cornfield.
We are shown a dizzy array of thermos, including an ancient thermos (don't touch), a broken thermos and a fisherman's thermos (different brand) which had been cleverly co-ordinated with a stuffed fish that was on display in a side room of the pub.
The tour guide himself is resplendent in a canary yellow shirt with mauve tie, rocking 'bus-driver-chic,' his National Health specs have been fixed with cellotape to one side. His humour could be taken offensively by some, and at times I feared for his safety, particularly when he called someone an 'inconsiderate immoral idiot.'
Highlights of the tour were an archaeological thermos dig that we were privee to and a Seabrook crisp spectacular homage, where time and attention had been spent creating a design led nod to the underdog of crisps beautifully created packaging, alongside the thermos. This careful attention to detail extended to a plastic animal in the garden being subtly 'covered' with an old curtain for aesthetic reasons.
This was a thoroughly enjoyable tour, it encouraged intelligent thinking, (no boring questions), brought people together, broke down boundaries and most importantly according to the guide it was fun. If you are unable to laugh at yourself I wouldn't advise it though. I left smiling and hope to catch the Thermos Museum on future tours.
Reviewer: Rachel Foster
Reviewed: 22nd July 2018
North West End Rating: ★★★★★