Kate Perry collects people. Here as part of Greater Manchester Fringe she gives audiences, a taste of some of these, in a unique form of impressionism with a dizzying array of characters, starting with Carmel (ages 78) from Northern Ireland who is a force to be reckoned with and hilariously funny. She complains and gossips her way through her life, obsessing on Ken Barlow with an acerbic wit, ruthlessly harpooning her fellow pensioner's behaviour.
Katy takes on this character spectacularly, complete with permed wig and Deirdre Barlow oversized glasses. She astutely takes on a role of someone who had a skewed view on her surroundings and has no filter on her opinions.
The next in the diverse range of collectable people is the discovery of Suzy Hedley- Simmons diary, which is a bizarre journey from a child's point of view of a mother who is disappearing down the drain with an addiction of diet pills and tranquilisers. Katy is an extremely talented mimic, when she takes on this role and addresses some difficult issues at the same time. Her performance is really entrancing, and you can't help but be totally engaged into the surreal characters.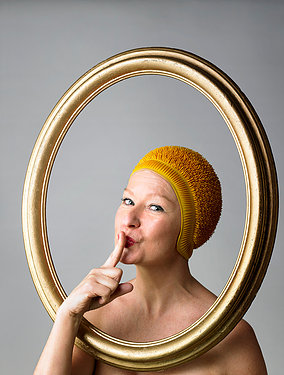 The next tragic-comic person is a poor girl in a droopy green jumper nick named GT (Greek tragedy) by her school mates. Extremely captivating as Maddy Malarkey as her name turns out to be, unveils her sad upbringing (yet we still laugh). Sometimes you felt wrong for laughing as it was so awful. Particularly the moment when her Dad throws a cabbage at her for being stupid in his opinion.
We are then thrust into the world of pigeon fancier Jimmy James from Bolton – where does Perry get these names from? With another completely absurd wig. Not to mention a pigeon poo stained coat. From one hilarious moment to the next we are laughing our heads off. His pigeons even have a collective name which calls for more singing and reminiscing.
Other characters were the creepy goggle wearing child who refuses to stop chatting on a flight. Complete with furry comedy lion hat. She chats away revealing all the embarrassing stuff adults would not want her to say.
Lastly there was a portrayal of an Amish lady, who is living a very mundane restrictive life. Quite shocking was the discovery of her secret life that goes on at night time when everyone sleeps. Perry entices us into an unpredictable ending, which passes on a message of freedom and hope. The portrayal of swimming in a river was so convincing, you almost were there with her.
There's one thing that strikes me about this show is that despite the hilarity and laughter, there's an underlying message. Naively unaware the collected people, are endearing, solitary characters who rely on soap operas or feathered friends to get them through the day. It's a very human condition and despite them being unsubtle, Perry cleverly portrays them in an endearing way that raises important questions.
Reviewer: Rachel Foster
Reviewed: 24th July 2018
North West End Rating: ★★★★