My final review of an excellent 2018 Greater Manchester Fringe Festival took me to the Northern Quarter in search of Mandy Tootill and her uncensored Twin Peaks.
When you are diagnosed with breast cancer before the age of 30, you have every right to think that life has handed you a pretty raw deal, you could be forgiven for becoming bitter and withdrawn. Mandy Tootill is having none of that and uses this horrific, life changing event as honest and savage material for a stand up show which touches the heart and leaves you crying and laughing simultaneously.
We travel with her from initial discovery of a lump while having 'a good feel' through diagnosis and treatment through to mastectomy and reconstruction arriving at the eponymous new 'Twin Peaks', which she happily shared with the audience during a hugely entertaining dance sequence involving balloons (you get the picture).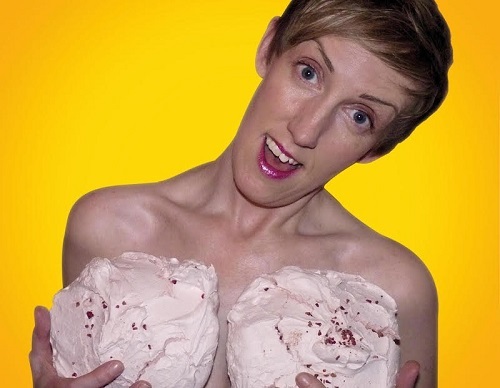 Tootill finds comedy in every stage of the process; sex with her partner Angela and a pair of marigold gloves is fair game and graphic descriptions of the side effect of chemotherapy abound. The explicit nature of the material is softened by the warm and natural delivery throughout, she has an inclusive style that is entirely sympathetic and allows the audience to feel invited into her private world, rather than voyeuristic.
The show is strongest when discussing her own experiences and the comedy inherent in them comes from a place that all the audience could relate to and there is probably a seam that could be mined even further to add depth and length to the show. Tootill will continue to gain confidence as a performer as this show matures and her uninhibited physical and verbal honesty is immensely empowering for both her and the audience.
The underlying point is that Cancer is really scary, people shy away from discussing it and the isolation and physical distance that people create makes the disease even worse for the person affected. Simply by talking about this taboo subject and laughing at the absurdity of the situations it causes, we are being inclusive and breaking down the barriers to understanding. If that were the only legacy of this show that would be reason enough to recommend it, but fortunately this had me in tears for all the right reasons too.
As she says 'laughter really is the breast medicine'.
Reviewer: Paul Wilcox
Reviewed: 28th July 2018
North West End Rating: ★★★★