Kicking off the Manchester Fringe 2019, Laura Harper's one-handed play is about a woman who is living in her own attic.
Dawn (Diana Atkins) has made some very questionable decisions – usually at the bottom of a glass of red wine. In a fit of unrecognised jealousy, she resigns from her job and leaves her friends, family, home and whole life behind her by taking a new job in Dubai. Except she didn't get the job in Dubai but is too enmeshed in her web of lies to come clean. As a result, she decides to live in her attic for a year and keep up the pretence, rather than lose face.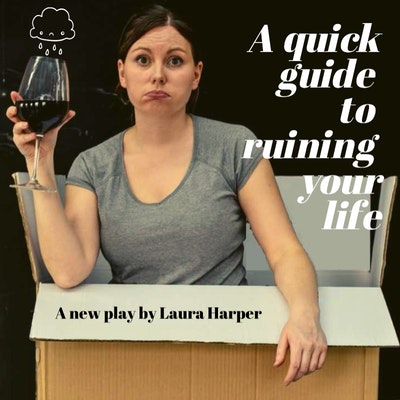 Dawn talks to the audience because she is actually reading from an open letter to all her friends and family. We get the warts and all of her predicament, including the more practical elements of living in an attic...such as using the toilet. For company, she has her laptop, phone, books and Alexa.
As Dawn tells the story of how she ended up in the attic, it becomes very apparent that red wine is a huge part of her life. She continually drinks and the running thread through her story is that all the risks she has taken have been alcohol-fuelled. As the play progressed, I wondered if there would be a heavy handed and unsubtle message about alcohol dependency but there actually wasn't - the message was there but it was very well balanced and presented in a totally acceptable and humorous way.
The play also emphasises the role of social media and technology which play such a huge part in our lives – certainly Dawn wouldn't have been able to maintain her pretence without it and as she says "it only took half an hour to destroy my life".
There are some great one liners in the script which Diana delivered perfectly, with just the right attitude and which provoked a very positive response from the audience. The character of Dawn comes across as very warm and likeable and she is so brutally honest, you can't help but root for her as the play progresses.
The play is mainly comedy but with some emotional and reflective moments which Diana portrayed beautifully and with real feeling.
With a simple set (bed, books and lots of wine bottles), effective use of basic lighting and a soundtrack of witty snatches of music, this was a watchable and enjoyable start to this year's Fringe Festival. I couldn't imagine what was going to happen and the ending is satisfying but also with a bit of a twist and I came out feeling I'd just watched a very rounded and entertaining production.
'A Quick Guide To Ruining Your Life' is showing at The King's Arms on 6th July at 4pm and 7th July at 2pm. https://manchesterfringe.eventotron.com/?event=37120
Reviewer: Nicky Lambert
Reviewed: 1st July 2019
North West End Rating: ★★★★