If you're still struggling to define the elusive sensibility of Camp after this year's Met Gala, Anita Giovannini's one woman show Anita Luna – The Diva pretty much covers it. While making its UK debut last night at Manchester's Lock 91 Camp could be found in abundance. It's been said that Camp is tarting up ideas in costume jewellery and that absolutely applies to this show. Deploying a mixture of performance mediums like clownery, dance and singing it follows Anita's evolving relationship with her own identity and especially her femininity.
The show was comprised of roughly four segments tracking the life and death of actress, singer, and Olympic gymnast Anita Luna. The audience is introduced to Anita as a young girl, initially appreciative of her masculine qualities and how they connect her to her father, she becomes conflicted in the face of derision. This sets Anita on her journey to become the renowned Diva, embracing, and even drawing confidence from, the contradictions in her femininity while encouraging us to do the same.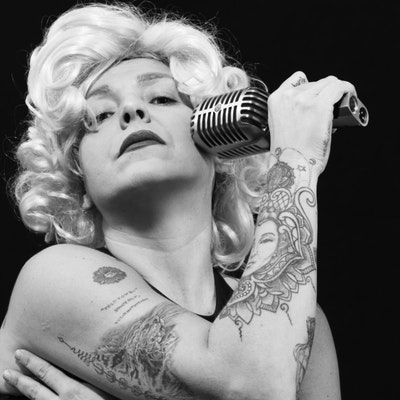 However, the production unquestionably suffers from a weak narrative thread, which leaves the story feeling disjointed and undercooked. For example, Anita transforms from tomboy to fully formed Diva rapidly and with only brief consideration of the conflict inherent in that experience. Perhaps more consideration paid to the nuance of her journey would ensure a deeper emotional impact on the audience.
The set design was minimal but utilised well, comprised of a vintage room divider, a dressing table mirror decorated in a Sailor Jerry style and a retro microphone. The aesthetic was clearly heavily influenced by Burlesque and Cabaret, and when coupled with the cavernous setting of the venue it worked well to create an authentic cocktail lounge atmosphere that felt natural to the character and her narrative. It effectively positioned the audience inside the world of Anita Luna which allowed for some fun interaction.
Giovannini certainly elevated the production, so that what was lacking in narrative could be somewhat overlooked in favour of her dynamic performance. The audience's introduction to Anita Luna was compelling as she began using props to paint on a huge smile, working to mix melancholy and humour into a clown performance. Giovannini amusingly played with exaggerated facial expressions and mimicry throughout, rapidly switching from overjoyed to devastated in a nod to the performative nature of life. It is here that the Camp influence is apparent, with an abundance of visual and aural references to classic Hollywood icons. At one point audio from Sunset Boulevard plays as Anita slowly pulls on her black velvet evening glove and fixes her oversized diamond earrings. Giovannini pays homage to the eccentricities of actresses like Gloria Swanson by incorporating elements of their acting techniques; it's all in the eyes darling.
Anita Luna –The Diva falls short of the mark where story is concerned but it definitely has some good ideas and plenty of costume jewellery to go with them. Giovannini's performance is captivating and energetic with enough odd quirks to keep the audience engaged and laughing.
Reviewer: Maria Cochrane
Reviewed: 2nd July 2019
North West End Rating: ★★