A monologue can be a difficult beast to manage, holding the audience's attention when you have no other performer to share the stage and experience with, it can feel like a lonely experience. The script must be particularly absorbing, and it can never be monotonous.
Taran Knight has taken up the monologue challenge, in his first full length piece he has drawn on his own life experiences and workshops with Jim Cartwright who has written such gems as 'Road', 'The Rise and Fall of Little Voice' and 'Prize Night'.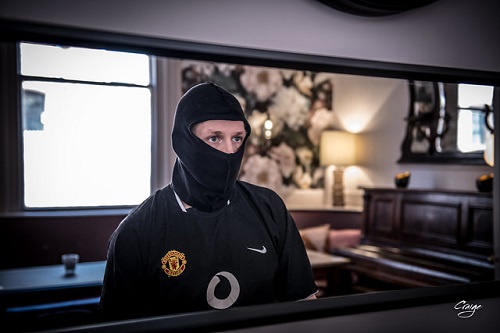 Our Kid follows Jimmy who has a younger brother Tommy, who is the apple of their mother's eye. Tommy can do no wrong in her eyes. Jimmy is forever being blamed for things Tommy has done, but they are close siblings. They don't see their Dad as he has served time in prison and their Mum (long since divorced) has been bringing the boys up on her own with the assistance of Gran. Their Mum soon meets Tony Harris, who spoils the boys with sweets and stickers and a trip to see their football team Manchester United. Jimmy says it's the best day of his life! They soon must re-think their opinion of Tony as he starts to beat their mother, and this is the beginning of Jimmy's violent streak when he decides they need to teach Tony a lesson and to warn him to keep his hands off their Mum.
The play is set in Manchester and focuses on its less salubrious areas. Knight ably demonstrates his ability to move easily between characters using different accents to differentiate them and he paints a colourful picture with his ability to be descriptive without it ever becoming boring. Wearing his writers' hat, he takes his time to develop the characters so that we begin to feel that we know them, but just as we feel this familiarity, the play swiftly changes its direction. This has the effect of gripping the audience and we want to know what's in store for Jimmy next!
A physically demanding play, Knight has an ability to fill the stage with his presence. He is not only a skilful writer, but his chameleon like acting technique means he can swiftly change between his characters without the audience even realising there is only one man on stage.
As a Greater Manchester Fringe play the material is close to home and will be lapped up by the local crowd.
As first foray into writing it has been a definite success and Knight should consider pursuing this. It blew my socks off - the standing ovation said it all!
The play is part of the Greater Manchester Fringe Festival at The Kings Arms, Salford. The dates are 18th, 24th, 27th and 31st July 2019. Go to https://manchesterfringe.eventotron.com/?event=38602 to book tickets.
Reviewer: Caroline Worswick
Reviewed: 18th July 2019
North West End Rating: ★★★★