OK, no beating about the bush with this one, it's aggressive, intense and the acting is second to none! GO AND SEE IT!!!!!
I could end my review there but there is so much to say about this play. Written by John Patrick Shanley who has won an Academy Award for his screenplay of Moonstruck, this play is a gift to any actor wanting to take on a dramatic role.
Set in the Bronx, the play begins with Roberta sitting alone in a quiet bar, when Danny walks in and sits at the next table. Looking somewhat dishevelled and bruised he sits with his beer looking moody. He rudely asks Roberta if he can have some of her pretzels and when she says no, he starts to become argumentative. What starts as antagonistic banter becomes deeper and they start to confide in each other sharing some of their deepest thoughts. Roberta had a child young and she lives with her parents and they help her to look after her son.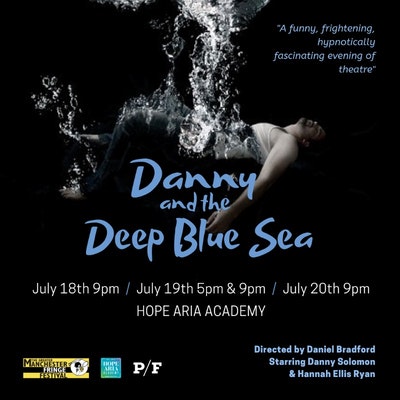 She does not feel particularly maternal towards him as she feels she is not a good mother. Danny struggles to channel his anger and always uses his fists to vent his emotions.
During the evening it becomes clear that they can help each other. What began as aggressive arguing quickly becomes tenderer and Danny begins to put his trust in Roberta. Roberta has shared her secrets from the past with him and they quickly decide to spend the night together. What follows is that a need to be listened to and loved is satisfied - or is it?
Director Daniel Bradford has done well to draw such convincing performances from Hannah Ellis Ryan as Roberta and Danny Soloman as Danny. It is emotionally charged and as an audience member makes you feel constantly on your guard as you are not sure how these volatile characters are going to react to the next piece of dialogue. The actors both make the play feel as though we are witnessing something happening in a bar or someone's own bedroom. They have so absorbed themselves into their characters that they completely convince you that they could at any point do something unhinged, whilst also communicating their desperate need to be cared for and understood.
The staging and lighting have been kept very basic. The sheer scale of the emotions means anything other than the basics would seem like frippery.
Play with Fire Productions can be very pleased with their efforts. A definite top pick for the Greater Manchester Fringe Festival.
To book this play go to https://manchesterfringe.eventotron.com/?event=38227 It is a short run at Hope Aria Academy from 18th July 2019 until 20th July 2019.
Reviewer: Caroline Worswick
Reviewed: 18th July 2019
North West End Rating: ★★★★