Entering The Pankhurst Centre on the hottest day of the year for a one night only preview of Clouds had everyone sweltering, much like most of the ladies of 1913 must've been in their layers of finery, all except Winifred Baxter.
Freddie Baxter wants to get her pilot license and become the first woman to enter an air race. She even wears trousers. As we sit in a small room at the birthplace of the Suffragette movement, I think we were all willing Freddie on and dreaming of being in the clouds ourselves.
Time and Again Theatre Company have created a brilliant melting pot of the social expectations, gender disparity and even some nephology of pre-war Britain with some serious vintage flair.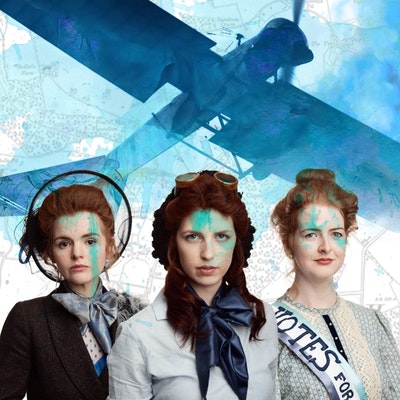 The small cast of five do an excellent job at characterisation and weaving these very different lives together to really come to life in the short one-hour production.
To be in The Pankhurst Centre for the performance brought a thrill to the evening, made the whole show more tangible and helped us to be transported back to Edwardian times. There was some very smart scripting from writer Laura Crowe, tricks like having the men cut off the women's lines consistently, and production decisions such as to have just the plane on stage as the sole focal point, the thing that brings all the characters together were great choices to avoid it getting too fussy with period appropriate props.
Clouds is about class as much as it is about gender, the social expectations of men as well as women but of course it's showcasing of early feminism and gender norms starting to waver is brilliant; especially in characters like Sylvia who witters on too much, but actually is willing to take action for her beliefs, and Freddie's brother Teddy who isn't the overtly masculine power-wielding patriarch we might expect him to be at all.
After this roaringly successful preview at Greater Manchester Fringe, Clouds is soaring off to Edinburgh Fringe next month and I highly recommend you go and see it. You will find it at theSpace on the Mile at 7.55pm 2nd - 17th August.
Reviewer: Jo Flynn
Reviewed: 25th July 2019
North West End Rating: ★★★★