I loved the 1990's film and was so looking forward to reviewing the musical at the Opera House, Winter Gardens, Blackpool, along with my daughter who was actually planning to make a night of this for her 21st next year and take along a large party to see it. It's now back to the drawing board as sadly it fell short for us. From the opening bars of 'Here Right Now' it was apparent that vocals are not a strong point for Andy Moss (Sam) and there was a lack of chemistry between him and Kelly Hampson, who was performing as Molly this evening as understudy for Sarah Harding. As central characters I expected more from them.
Sam is a fun loving guy, crazy over his girlfriend Molly, but unable to utter the three little words she longs to hear, always using 'ditto' as an endearment. When they are attacked in the street one night in what appears to be a robbery he is shot dead and Molly is left weeping by his side. This scene should have had us reaching for the tissues but passion and emotion were sadly lacking and the moment was lost. Sam may be dead but his presence is all around as he becomes a ghost on a mission as he realises he was actually murdered. Molly is in grave danger and he needs to warn her.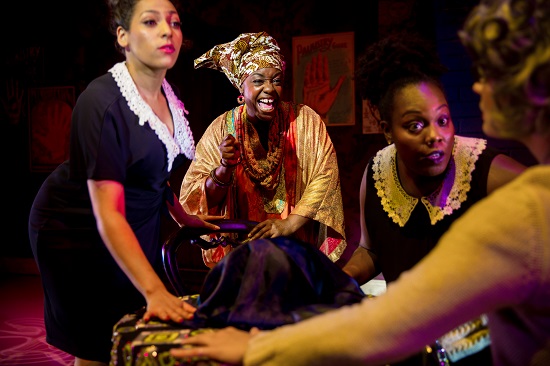 There follows a hospital scene with a fellow ghost (James Earl Adair), who gives a great rendition of 'You Gotta Let Go Now'. Sam Ferriday as Carl, a work colleague of Sam thankfully adds some depth to the show as he proves he can sing and also with his portrayal as the self assured but ruthless 'friend'.
Comparisons to the film are inevitable and up to now the musical has felt dull and uninspiring, although Garry Lee Netley's appearance as the subway ghost is strong, chilling and really livens things up! The special effects, lighting and staging should be commended as they were particularly effective with objects moving, walking through doors and other ghostly happenings. Scene changes were many and smoothly executed.
With the discovery that Carl is in fact behind his murder and is now offering support to Molly, Sam is desperate to communicate with her and now enters the real star of the show, Jacqui Dubois as Oda Mae, a fake medium...or is she? Dubois is absolutely perfectly cast to perform as Oda Mae a role played by Whoopi Goldberg in the film and for which she wonBAFTA, Golden Globe, Saturn Awards and an Oscar. A larger than life character to play and there is a great expectancy, Dubois does not disappoint in any way. Her portrayal was outstanding and brought a vibrancy to the stage. As Sam discovers she can hear him and her realisation that she really does have 'voices in her head', it brings some brilliant comedic moments as he tries to convince her to help him.
If the musical is to be remembered for anything it will be the scenes between Oda and Sam and not the scenes between the two young lovers tragically torn apart. There are some good song and dance routines but nothing to take your breath away. The iconic song 'Unchained Melody' barely features, there are no other memorable songs to hum on the way home, there are no great love scenes, there is nothing sensual about the use of the potter's wheel and at times a lack of connection with some of the characters, all these add up to why there wasn't a standing ovation at the end although main performers did receive cheers. Wipe away your memories of the film, view this on its own merits and at best you will have an enjoyable evening out. Sadly Ghost did not work for me and I so wanted it to!
Reviewer: Lorna Weekes
Reviewed: 4th October 2016
North West End Rating: ★★★
Photo: Matt Martin