I'm going to start with one of my rants whether you're ready or not. What a terrible name for a play Ockerbys On Ice is! I honestly wouldn't care for seeing a play called "Ockerbys On Ice" if I wasn't reviewing it. It conveys kitchen sink middle of the road boredom rather than what it actually was and if you are of an absurd, over optimistic nature like myself you could allow yourself to think The Dukes were installing an ice rink in their Round space for the Ockerbys to literally be on. That didn't happen but there's certainly no need to be disappointed. In all honesty the title does not do this play justice. As these youngsters say on social media "rant over!" Let's get on with chatting about the good points of this new play. Believe me there are a lot and so I really should shut up about something so insignificant as a rubbish title.
So I've gone to the Dukes Theatre in Lancaster to see the swan song from departing Artistic Director Joe Sumsion. Collaboration between Sumsion and writer Debbie Oates on this project began way back in 2010 and the time spent developing it seems to have paid off. It is undoubtedly the best play the Dukes have produced in house in many years and indeed you'd be hard pressed to find a better regional production this year.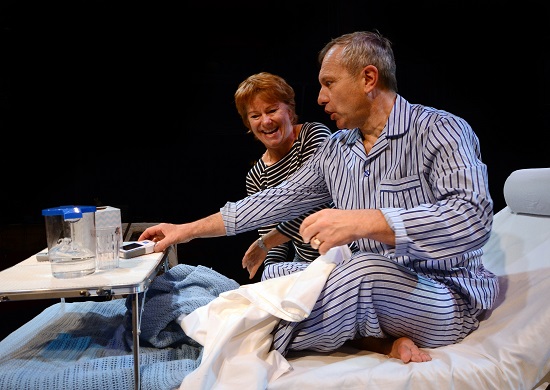 The best summary I can give of this play is of a middle aged married couple in a near future trialling a new technique to be cryogenically frozen until such time as to be revived when a cure for Dennis's illness is found. In this context Oates opens up a whole host of ethical ideas relating to the nature of science and love. I love the way that she has used a procedure that nobody has any experience yet in our world to detach us from the questions she throws up in spades within the play.
The realisation of the set and lighting design by Alison Hefernan and Brent Lees respectively were functional and not overly elaborate whilst being intelligently thought out enough to put to use some of the best features of the space. My only regret in this regard is the tiny detail of gaffer tape being used to mark out the onstage pattern rather than black paint. In the round we notice these things and I'm a pompous little upstart so I don't forgive little niggles such as this however brilliant the idea for the set is. Some of the scene change cuing was a little bit fast at times too but I'll shut up about those and focus on the good.
Stand out performances by leading couple David Crellin and Karen Henthorn were complemented by an equally excellent supporting cast including Lynsey Beauchamp who deserves special note for her portrayal of lead doctor for the procedure Dr Taylor Devine whose desperation to be noted by history drives a series of events to an interesting ending. I dislike giving plot away in reviews so I won't elaborate.
Despite my compliments so far mentioned, where this production really shines is through some incredible writing by Debbie Oates. Capturing the sadness of an end of life story whilst injecting humour, sensitivity and above all, originality is no mean feat and she does it so well here. In short great writing backed up by great direction, set, lighting, sound (Mark Melvile), performance and anything else necessary to do this play has produced an absolutely cracking piece of Theatre which you should definitely see even if you think the name is rubbish.
Reviewer: Karl Barnsley
Reviewed: 5th October 2015
North West End Rating: ★★★★