To give the performance it's full title, The Amazing Adventures Of Pinocchio, one would imagine a fantastic Arabian Nights style show. However this is Hard Graft Theatre Company, and this year's budget must have been tight since it was not even a patch on last year's fayre.
A simple curtained screen and two moveable flats were used throughout for different purposes. The silhouette work was good, and the turning round of the two flats worked well. It was simple but sufficient.
The story was not the traditional story, although the elements of that tradition remained constant. these being an elderly toymaker creating a young boy out of wood and as the toy comes to life he becomes a father to him. If the boy lies the his nose grows longer, and so he has to remain a good, true and honest boy for his nose to be returned to normal. So far so good. Where this story deviates is that there is an evil circus owner who, in true panto fashion, steals the wooden boy and enslaves him. Gepetto goes in search of him, but ends up being swallowed whole by a whale. It all works out fine in the end though with a little help from fairy magic!
Sadly though there wasn't the same buzz surrounding this show as I remember from my visit to Uppermill to see Little Red Riding Hood last year by the same company, and it did seem that at times the actors were just going through the motions. It lacked atmosphere and pizzazz. It also lacked in the amount of actors used. There were only 6 dancers / chorus this time round, and this looked very sparse and also it showed up their distinct lack of training and expertise too. They were the show dancers and none seemed capable of executing a reasonable cartwheel, and most were slightly out of sync with each other. their final dance was the worst sadly. This looked as though they were just making it up as they went along!
Of the four adult cast members only Bethany-Jo Clews stayed as one character throughout - Pinocchio. Her physicality and amiable manner an instant hit with the youngsters in the audience, but vocally too quiet and her singing voice seemed also to be a little flat too this afternoon.
Danielle Dawson played both The Blue Fairy (looking more like a latter day railway porter ) and Connie - Pinocchio's conscience. ( a brash, Northern and overt lollypop lady! ). Odd choice of characterisations and costumes for both, but the characterisations were constant and we never confused the two. I also had the feeling that there was a beautiful singing voice in there too somewhere bursting to get out, but was never given the opportunity.
Alex Phelps was the evil pantomime villain character Freddy Foulfellow, and perhaps could have made more of this from his first entrance. The youngsters actually liked him at the beginning and so found it difficult and didn't understand why we suddenly had to boo him and why he suddenly became bad. The magic was good, and his timing very good.
Finally, looking far too young for the part, Mark Whiteley played Gepetto, the kindly old toymaker. Why he needed a cod Italian accent I have no idea when everyone else spoke with their own accents.
For the target audience, of which the auditorium was full this afternoon, then this show had plenty of visual stimuli which kept them laughing. Sadly, what it didn't have was dialogue that they would have understood, and the songs were simply far too fast and not for them at all. The vast majority of the show, which lasted only one hour, was way above their heads. Pity. And I think I commented on this last year too - but bringing Father Christmas on at the end for me is simply not a good idea; especially in an area so culturally and religiously diverse as Oldham! It will confuse those who either already have seen or are going to see him in a grotto and looking and sounding totally different, and it will put those of other persuasions off. It's a tricky one to pull off is Santa - and so best leave it alone, it has nothing to do with the Pinocchio story in any case!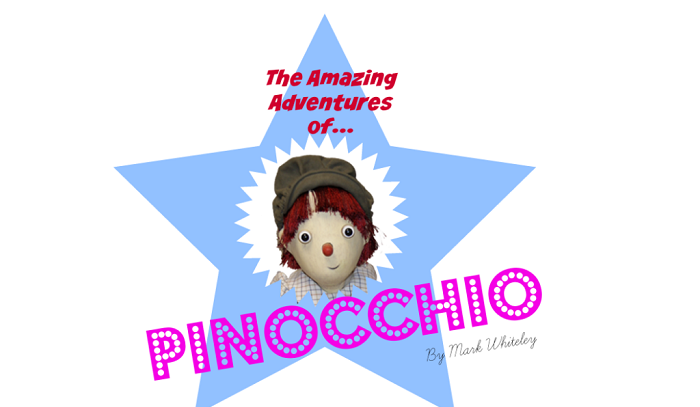 Reviewer: Mark Dee
Reviewed: 12th December 2016
North West End Rating: ★★