I have to admit to being slightly apprehensive about reviewing this show, surely I would be out of place in a theatre packed with what I assumed would be young, screaming women? My days of going to see other male dance troupes perform from many a year ago are long past. I was even more worried when my 20 year old daughter was unable to accompany me (my excuse for actually being there) and more than relieved when another friend of similar age to me stepped in..... at least I wasn't going to look like some sad old woman on my own!
Well firstly, yes it was full of screaming women, but the age range was vastly varied, as for men, well the number in the audience equalled that of those on the stage, eight, so men be warned if you are thinking of going along, you will be in a minority.
The dashing Lewis Winyard took to the stage as Compere for the evening and kicked off the whole screaming and cheering process, he worked the audience brilliantly and there was a lot of innuendo which given the men peel off their clothes during the show was of a sexual nature, (or maybe that's just my mind.) He kept the show flowing appearing between each act and was a great hit with the crowd who chanted 'off, off, off' when he appeared, which on any other show would mean disapproval, tonight it was a suggestion for him to remove his clothes!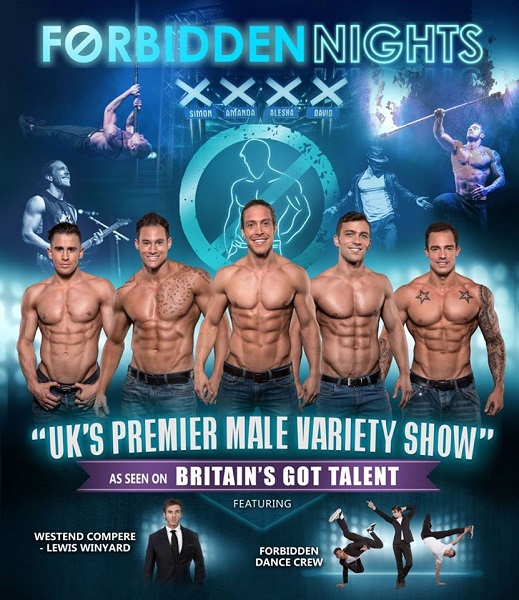 The stage was set simply, with a metal frame across the back and side panel fencing as seen on building sites and did not alter throughout the show, although there were other props added. Lighting was good but occasionally a little dark when mixed with the smoke machine which obscured the dancers sometimes at the start of their acts.
Six of the performers took to the stage first, with a raunchy dance routine, which followed with two of the muscular men showing off a workout at the gym. Known as Billy Blue Eyes our next entertainer clad in black leather showed his skills on aerial chains. There followed line dancing cowboys.....YeeHaw! before Lex impressed with his fabulous routine, featuring an illuminated Cyr Wheel.
Jai, referred to as 'Hot Chocolate' with his sexy moves was the perfect winter warmer, before Ozzie sent temperatures soaring with his fire eating demonstration. Actually, the fact he peeled off his shirt I think brought the hot flushes on! Although the audience were appreciative of all the acts and talents on display the loudest cheers were always when an item of clothing was removed, the Preston crowd were definitely in full party mode.
Without exception, the guys all have hidden talents (behave! I am referring to the artistry within their performances) They sang, they danced, they performed circus skills and acrobatics and yes, they tantalised the audience when they bared their chests and ripped off their pants, but it has to be said it is all performed in a tasteful and classy manner and not at all vulgar or sleazy as many think a show of this type could be. With solo performances as well as the full dance routines choreographed by Reece who also performed in the show, Forbidden Nights are truly professional and never will a rainy day or washday seem the same! As for Lewis.....did he succumb to the audiences wishes? All I can say is get along to a show and check out for yourself.
For more information and dates of the The Forbidden Nights tour: http://www.forbidden-nights.co.uk/theatre-tour/
Reviewer: Lorna Weekes
Reviewed: 25th January 2017
North West End Rating: ★★★★