The Performance Space at Oldham Library is a much bigger and brighter theatre than one may at first imagine, and has seemingly set itself up as being the venue of choice for fledgling theatre companies to try out their new writings in front of an audience before developing the script and moving to larger and more established venues. For this purpose, this venue is superb, and I have seen many such productions take shape here before rewrites, edits and even cast changes!
Today I went there to see another such endeavour - a play in its first stages of development, and the company wanting to test the waters and gauge audience reaction, before taking the writing any further. And so with only five afternoons of rehearsal the intrepid three performers went on this afternoon to an audience of about 20 shoppers coming in for a break from the rain and the cold. And they were not disappointed.
The play is called, the dead, live; an intriguing title, and is written by Daniel Thackeray, produced by Scytheplays Ltd. In brief, it tells the story of a theatrical Medium whose show is all set up and fake, and yet we learn that he truly does have the gift to communicate with the spirit world. His past however, and his relationship with his erstwhile business partner Adam seem to have caught up with him as the past comes back to haunt him, literally.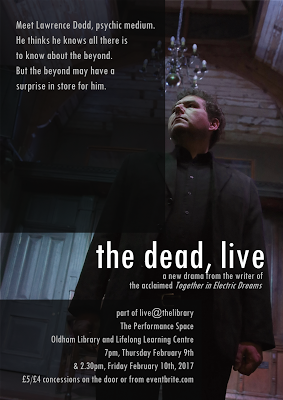 I enjoyed the premise of this story, and the plot was nicely set up. Te start was as unique a start to a play I think I have ever seen, and the characters had a good pace and delivery in order to bring this story to life. Mixing pathos with light humour, and tragedy with the spiritual unknown, this play doesn't aim to shock, and is not in any way in the 'horror' genre that one might expect with such a premise. It is more real and centred and perhaps more of a mystery play than anything if I had to pigeon-hole it.
The acting and directing was of a good standard and maintained our concentration as we learnt more and more about Lawrence Dodds, our psychic protagonist, and some lovely LX and SFX really helped to bring the play to life. I did find the interval unnecessary, and the ending was weak and poor too; but otherwise, this story certainly has, as we say in the profession, legs.
Howard Whittock played a rather worried Lawrence Dobbs, although I would have liked to have seen perhaps more of a change in his character between the real man and the showman in front of his audience. A strong spirited new recruit stooge came in the form of Carly Tarett as Rebecca and the 'blink-and-you'll-miss-it' but highly important plot developing role of Carla was played by Carole Bardsley.
I look forward to seeing how this play will progress and develop on the future.
Reviewer: Mark Dee
Reviewed: 10th February 2017