It's been touring since January, but in Blackpool La Cage Aux Folles has landed in its spiritual home. Where better to showcase a production that has great songs, eye-popping choreography, glitz, glamour, tinsel and over the top razzmatazz?
George (Adrian Zmed) and Albin (John Partridge) together run the glitziest, glammest nightclub in St Tropez, the La Cage Aux Folles of the title. George is the owner, while Albin is the star attraction, Zaza. Their happy existence is threatened when George's son Jean-Michele (Dougie Carter) announces he is to marry – and that is bride-to-be's right-wing, anti-gay parents are coming around for dinner... tomorrow. George should be able to fool them – but what to do about Albin, whose dazzling wardrobe would put the Kardashians to shame? Thus follows a farce of epic proportions, but really the plot is a mere wrinkle in this epic night of musical theatre. OKK, it might not be Shakespeare, but La Cage... is well worth the ticket price.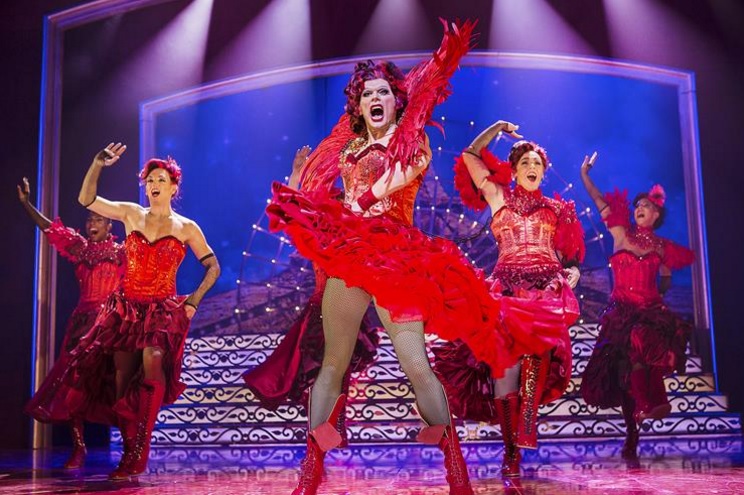 For starters, there are some great songs like The Best of Times, With Anne on My Arm (beautifully delivered by Dougie Carter) and Look Over There, but the standout (and the song everyone has come to hear) is I Am What I Am. They were not to be disappointed, because this show stopper was delivered in poignant, measured, utterly moving style by John Partridge as the first act drew to a close. Just as well, I needed the house lights to find my tissues! Throughout this show Partridge demonstrated just how good a musical stage actor he is, throwing in ad libs to the audience one minute, flooring them with the emotion of his singing the next. A tour-de-force performance.
I was delighted to see Marti Webb's name on the cast-list and enjoyed her chances to 'let it rip', though sadly they were few and far between. Samson Ajewole was a scene-stealer as the saucy butler/waitress Jacob, while Adrian Zmed's performance as George was marred by stumbling moments in delivery of both dialogue and song.
The costumes are to die for, luscious colours, sparkles, spangles, feathers and frills (and that's just the men!) and the choreography was first-rate on a set which looked pretty good on one of Europe's biggest stages.
The cast pulled out all the stops on this opening night and were rewarded with a standing ovation at the finale, with a clearly emotional John Partridge seemingly unwilling to leave the stage. He'd earlier tweeted 'After 28 years, I am back in the Winter Gardens, Blackpool where it all began. From Cats to La Cage.... It's been EPIC. Dad, this week is for you.' John, Your Dad must be proud. Thanks for a night I'll remember for a long, long time.
La Cage Aux Folles continues at the Opera House, Blackpool until 25th February before continuing on a full UK tour. http://www.wintergardensblackpool.co.uk/events/la-cage-aux-folles
Reviewer: Sandra Mangan
Reviewed: 21st February 2017
North West End Rating: ★★★★★