Anticipation filled the air last night as the audience at the Charter Theatre, Preston awaited Britain's Got Talent runner up in 2015 magician Jamie Raven to thrill with his amazing magic and illusion skills. The stage was set simply with bright search lights, a hint of smoke, a back screen and with music being played that added to the drama it promised to be a good night. A three-minute countdown began on the screen with flashbacks to Ravens appearance in BGT where he narrowly missed out on winning to a performing dog and then right on cue Jamie Raven appeared onto the stage. (not quite by magic, he walked on!)
From that minute we were spellbound, mesmerised, captivated, enthralled, call it what you will but Raven is a true gentleman in the art of magic. He has a 'can't quite believe his own success' demeanour and gives a brief referral to life after BGT which included headlining 'The Illusionists' at the Shaftesbury Theatre in late 2015 which was a huge success before he embarked on his one man show tour during 2016 visiting 4 countries and now his UK wide Theatre Tour- 'Jamie Raven Live'.
Performing numerous tricks involving cards, mobile phones, rope and milk cartons to name but a few, the audience were swept along by the apparent ease of the impossible becoming possible by his sleight of hand. You would imagine the most asked question to be 'How Did You Do That?' and indeed that question was never far from my lips tonight, but Raven assures us that, 'Can you make my wife disappear?' tops the list!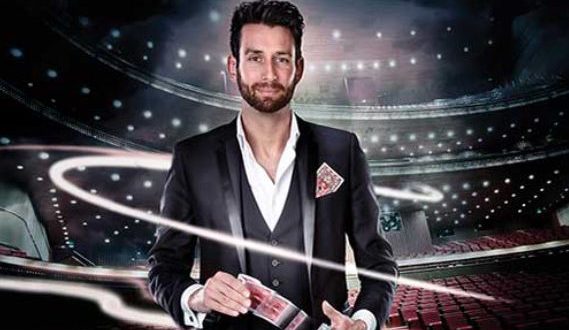 Many would prefer to forget a controversial point in their lives but Raven actually highlighted a moment when he was making news over a trick he performed on BGT when a signed five pound note appeared inside a lemon and viewers claimed to have spotted how he did it. Well he has made some adjustments to this trick.... he used an orange tonight! Even with close up camera work and my eagle eye watching his every move Raven baffled me to how he did it and I just wish I knew his grocery store that stocks these amazing note filled oranges! He did go on to show us how to make a scarf disappear into the palm of your hand and have an egg appear, easy when you know how.....but then went one further that left us fascinated once again.
Audience participation is high on the agenda and Raven leaves the stage several times to perform at the side of someone, always with cameraman at his side relaying everything to the screen on stage. He also invites several people to take part in the show on stage and utilised most of the front row, it would have been nice to have seen his selection include members from further back, with his charisma and relaxed manner putting everyone at ease, he was not short of willing volunteers.
Children were delighted to be chosen to assist for some tricks and were rewarded with merchandise that was on sale in the foyer. One lucky audience member was £5 richer at the end of the night but narrowly missed out on claiming a £50 note and a cheque for £15,000!
Jamie Raven brings a whole new meaning to OMG.......'One Magical Guy' and for a highly entertaining show for the whole family I suggest you get along to one of his shows, purely magical!
Reviewer: Lorna Weekes
Reviewed: 24th February 2017
North West End Rating: ★★★★