Teenager Ren McCormack's (Josh Dowen) world has come crashing down. After the breakdown of his parent's marriage he and his mother Ethel (Lindsay Goodhand) find themselves having to move away from the hustle and bustle of Chicago, to living with his uncle in the rural small backwater of Bomont. Attending church along with all the other residents he is attracted to the Reverend Moore and principal clark Vi Moore's daughter Ariel (Hannah Price), maybe it won't be too bad living there!
Afterwards he is introduced to her and her friends Wendy-Jo, Rusty and Urleen. He soon learns that Ariel is the girlfriend of local bad boy Chuck (Connor Going) after a confrontation! Boredom is the key factor for the young teens in the town and Ren is dismayed to learn from loveable, but slow witted, Willard (Gareth Gates) that after a tragic accident several years ago all dance and music has been banned from the town.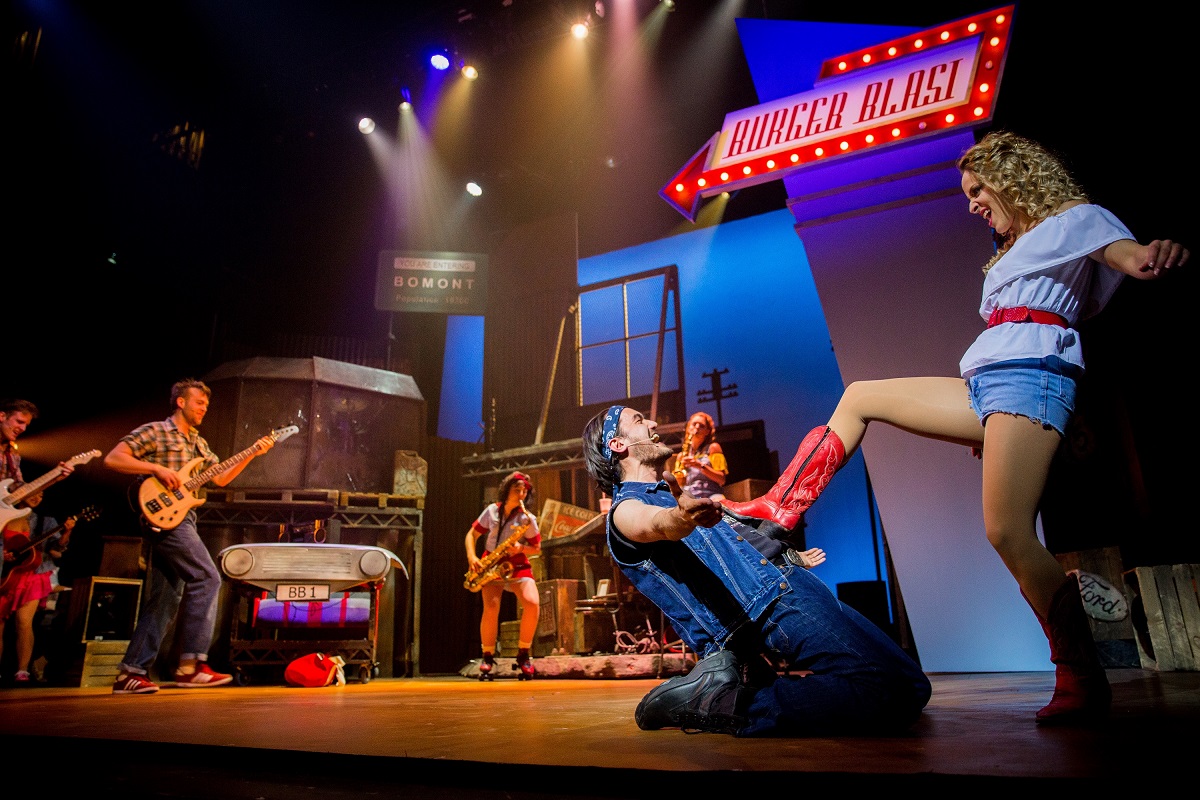 The story revolves on Ren and his mission to change things and his confrontations with the Rev Moore (Reuven Gershon) who is steadfast with the ban but his wife (Maureen Nolan, yes, one of 'The Nolans' and is great to hear her singing during the musical) is beginning to realise change is needed. Ren encourages Ariel and her friend Rusty (Laura Sillet) with Willard to join him at a club miles away for a night of dance and music. Once there Willard confesses to not knowing how to dance and there are great scenes as Ren teaches him. Who would have thought that Gates could be such a great comedic actor, he brings a light hearted, slightly sassy character to life and has the audience loving him even before the big 'reveal'! Hard to imagine that several of this evening's members of the audience would not even have been around when he first shot to fame in 2002 as runner up in Pop Idol, oh how that boy has grown up! His courtship of Rusty brings many funny moments and he gives a great rendition of 'Momma Says'. Sillet is fantastic as Rusty and there is great timing and chemistry between her and Gates. Dowen and Price equally own their characters and give amazing performances.
This musical is fast paced and full of pure energy from all of the cast. Not only are they performers, dancers and singers, but impressively play all the instruments used during the show displaying incredible talent as several switch instruments too. I cannot imagine it is an easy feat to perform in this way. Occasionally there did seem to be a little too much going on and the stage appeared cluttered with the set often used as platforms for performers and dancers and there were instances when the music overpowered some of the vocals. The revolving set was easily switched to become a chapel, diner, home, club and others scenes and worked really well.
The show features many songs from the original soundtrack of the 1984 film of the same name including 'Let's Hear It For The Boy,' 'Waiting For A Girl Like You' and Holding Out For A Hero'.
Footloose is a toe tapping, sing-along sensation and provides great entertainment for all ages and I can fully recommend you 'Cut loose, kick off your Sunday shoes' and get along to a performance!
For tickets and further information: http://footloose-musical.com/
Reviewer: Georgia Leigh
Reviewed: 8th August 2017
North West End Rating: ★★★★