Our House is a fast paced, Olivier Award winning jukebox musical that first hit the UK in 2002 and showcases the music of the band 'Madness' with a coming-of-age, romantic comedy story line. This is the fourth countrywide tour of this show since leaving the West End, this time brought to us by an Immersion Theatre Company and Damien Tracey Productions partnership and featuring some well-known celebrity faces.
The story of 'Our House' takes its influences from many different well know sources including 'Blood Brothers' and the movie 'Sliding Doors'. Essentially the relationship between the good and bad choices we make in life and what might happen if we travel down a different life path, presented in a quirky split narrative format. Ironically this production of the popular musical also raises some questions about the good/bad choices of the production team.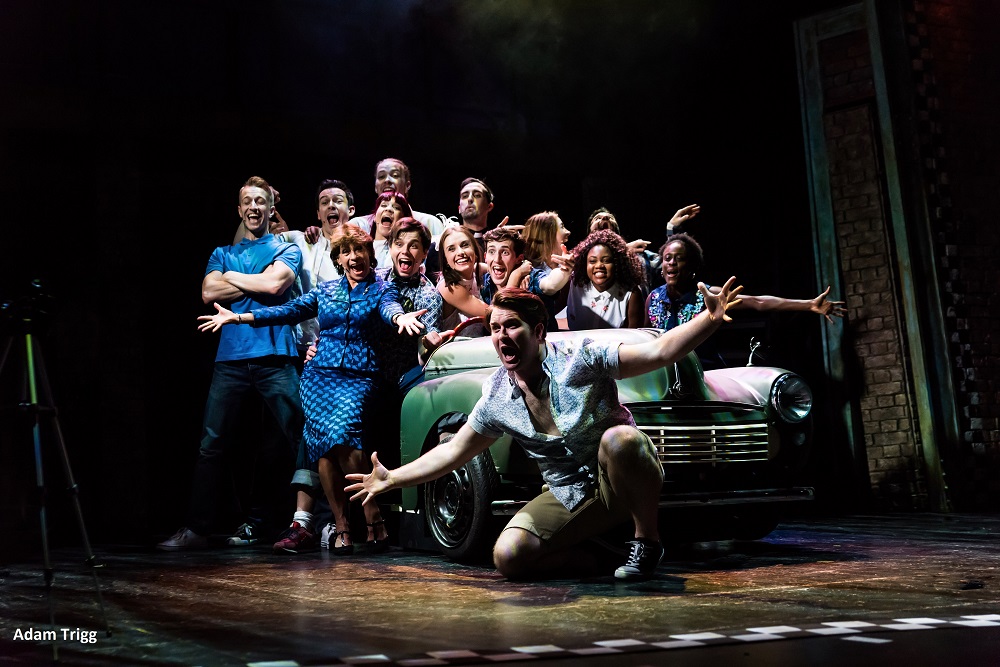 Without doubt the best choice was to bring Fabian Aloise on board as Choreographer. The big ensemble numbers: 'Our House', 'Baggy Trousers' and 'Wings of a Dove' were lively, energetic and completely carried the show. Some really complex choreography, expertly executed by a talented ensemble cast. The Fosse inspired 'Embarrassment (Reprise)' also known as 'Encouragement' was to a standard usually reserved for bigger West End productions and was quite mesmerising.
It's always a risk to cast an inexperienced, celebrity performer such as George Sampson (Reecey) into a big musical production. Unfortunately, on this occasion it wasn't a risk worth taking. Sampson is the wrong performer for this role. Whilst he is clearly a skilled street dancer (although street dance is randomly out of place within Our House story line), Sampson lacks the vocal and acting abilities to create a stage presence worthy of bad boy Reecey. With whispery dialogue, and a Northern accent he completely missed the character profile and got lost on the stage amongst his colleagues.
One such colleague is Callum Mcardle in the role of Dad. Mcardle is seasoned musical theatre professional and delivered note, clear perfect vocals throughout and brought the role of Dad to life.
Frances Dee (Swing), Lottie Henshall (Ensemble) and Michael Nelson (Swing) also gave brilliant performances throughout and consistently drew attention away from some of the weaker Principals with their energy and commitment to their broad range of characters.
The true star of any Our House production is the performer tasked with playing the role of main character, Joe Casey. This is a high demand, athletic role that requires the triple threat and an ability to change costumes quickly and within sometimes confirmed spaces. Jason Kajdi (Casey) did not let us down and held the show with ease in the palm of his hand. He is a sturdy, powerhouse performer and played Joe Casey with great comic timing that won the audience over.
Deena Payne, the other headline name, unfortunately looked uncomfortable and miscast as Kath Cassey, the shows matriarch character. A generally underwhelming portrayal.
Lighting (Tim Deiling), Set (David Shields) and Sound (Chris Whybrow) presented significant issues throughout. Performers were poorly lit and often stood in partial shadows or complete darkness. Sound quality was variable with missed cues and unequal microphone volumes. However, the biggest issue of the night was the Set with several clunky/noisy scene changes and a disastrous back stage view for at least half of the Blackpool audience during 'Tomorrows Just Another Day' that completely ruined the Good Joe / Bad Joe illusion as we watched performers change into their prison costumes overseen by a lady with a torch in her mouth. This is totally unacceptable for professional theatre and needs to be addressed quickly by the creative team.
It's a real shame that Kajdi wasn't placed at the headline of this show in favour of better known (celebrity) performers who quite frankly failed to hold their own and let the overall production down. That said the overall enthusiasm of the cast makes this production a success and if a few early technical teething problems (and possibly some recasting) can be resolved it may grow into a hit show.
The UK tour of Our House continues around venues until the end of the year: http://www.ourhousetouruk.com/
Reviewer: Alan Stuart Malin
Reviewed: 09th October 2017
North West End Rating: ★★★