I really did not know what to expect with this show. It's about Liverpool's sweetheart Cilla Black who sang a few songs in the 60's and did Surprise, Surprise and Blind Date in the 80's and 90's. What else is there to know? Right? Wrong. This truly was a magical experience from start to finish. The theatre itself, the magnificent Blackpool Opera House had me awestruck. I have been to Blackpool many times but never seen such beauty as this theatre. One of the largest in the UK with a capacity of nearly 3000, most recently renovated in 1938, the Opera House has some wonderful features which make it feel homely and intimate.
The audience were a mixture of age groups and although I was unsure of what to expect, I had the feeling that this musical really does appeal to all ages. There was an exciting buzz around the auditorium in eager anticipation of what the night had to offer us.
Kara Lily Hayworth was absolutely inspirational as Cilla. She is reported to have said that when she was a child, she met Cilla Black and asked for an autograph. Telling Cilla Black that she wanted to be an actress someday, she was advised by the wonderful lady herself to work hard, stick at it, and one day it might be possible. Fitting, that she has ended up playing the role in this amazing retelling of a teenage dream.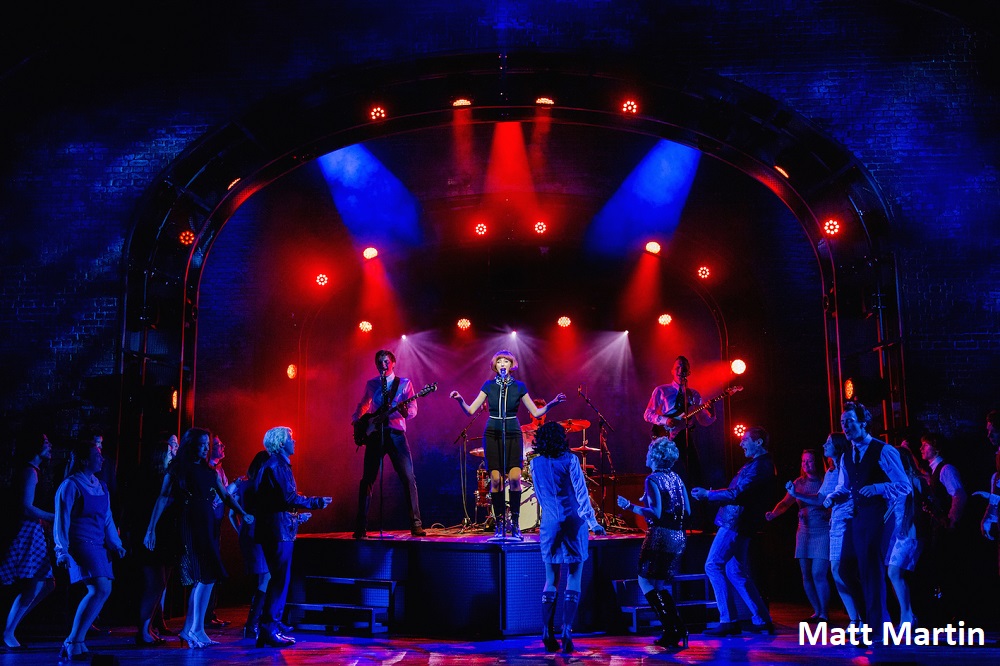 I only really remember Blind Date and some of Surprise Surprise but from my limited knowledge of Cilla Black, I do believe that Hayworth captured her bubbly personality and lust for life perfectly. The Liverpool accent was real and believable and must have been no easy task for a girl from Watford. She has a beautiful voice and sang all of our favourite Cilla Black songs with grace and poise. The only criticism I would have is that sometimes, the band seemed to be playing louder than the singing and that spoiled some of the numbers. Otherwise, I have definitely become a fan of a type of music that I have previously never had much of an interest in.
Carl Au played the role of Bobby Willis. Most of his acting career has been on stage but he has had a television role in the popular BBC show Waterloo Road. I really enjoyed watching him transform from a cheeky teenage boy, into a supportive friend, loyal manager and eventually a loving husband. He handled the emotional scenes brilliantly and all the way through the second act, I felt real sadness and regret at the sacrifices his character made for the love of his life. There were certain points throughout where Cilla was not a very likeable person. This was never shown in public and it is credit to the family of the late Cilla Black to allow us to see that fame, fortune and success is not an easy ride, even if it seems that way from the outside. Haywoth and Au had a believable chemistry on stage and made the audience feel like they were watching a true love story blossom in from of their eyes.
I was delighted to see the role of Brian Epstein being played by Andrew Lancel. I mostly remember him from The Bill and expected his character to be serious, dull and a bit boring. I love being proved wrong and he was actually my favourite of the evening. As well as the obvious manager to the stars role to portray, he also had the very difficult task of showing us how, in a much less open minded world, he had to live his life in secret. His heartache and pain, although well hidden when it had to be, was depicted in the most gut wrenching way and it really made me feel uneasy to watch. Lancel is an amazing actor and I am relieved that people no longer have to live the way Brian Epstein did in the 1960's.
The whole cast and crew have created a very special show and would not have been the same without each and every one of them. Special mention has to go to Neil MacDonald who played the role of Cilla's father His comedy timing was brilliant and brought a light heated feel to what was actually a very emotional rollercoaster. Even if you don't think you like Cilla Black, I highly recommend this show to anyone, especially if you love 60's music. You'll laugh, cry and dance the night away and will most definitely become a Cilla fan if you weren't one before.
Reviewer: Ann Ellen Fazackerley
Reviewed: 17th October 2017
North West End Rating: ★★★★