Flashdance is another film of the 80's adapted for the stage and bringing back memories of some of the great sounds of that decade. What lacks in story is made up with sheer energy and fabulous dance moves from the lead character, Alex Owens, performed by star of Strictly Come Dancing, Joanne Clifton. Alex is a welder at a steel works who longs to dance and is desperate to be given the chance to audition at a prestigious dance school, given her background and the snooty administrator it seems unlikely she will get that chance.
Hannah (Carol Ball) is her mentor and encourages her to follow her dreams but can she achieve her ambition? Ball is a delightful addition to the cast but little is made of her singing talents which were a surprise to hear at the end of the show.
Ben Adams of late 90's successful boyband A1 portrays Nick Hurley, the owner of the steel works who becomes enamoured with Alex. Their dueting in 'Here and Now' and 'Hang On' highlights the chemistry between the two lead characters. Clifton showcases her unexpected amazing vocals throughout, although on many occasions with the ensemble joining in it appeared as though they were all competing to make their voices heard above the music and each other, there did appear to be some sound issues on several occasions. Adams undoubtedly has a good singing voice but did not command the stage and I would have liked to see more of his character unfold.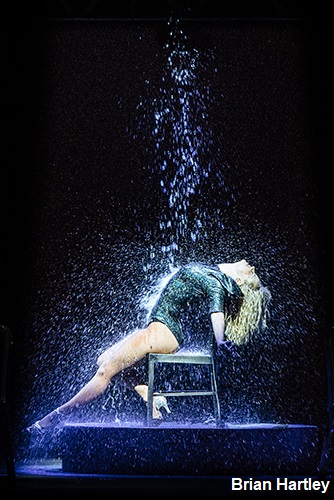 For a dance show I expected choreography to be sharp and spot on but although full of energy it all seemed a little chaotic at times. Hollie-Ann Lowe as Gloria played a fabulous part, her character was vulnerable and she portrayed it perfectly dancing in a sleazy bar and coupled with the pairing of Colin Kiyani as on off partner Jimmy the two were brilliant together. Kiyani's rendition of 'Where We Belong' was a showstopper.
Staging consisted of two staircases and elevated stages which were put to good use for the various scenes and were changed around smoothly and efficiently, even whilst being performed on but lacked in accessorising, the same steel bench was used in the steel works, Hannah's lounge and the dance school! A throw and a couple of cushions would have made all the difference to Hannah's home. There were some good projections used on the set but the blinding white light used on two occasions dazzling the audience were unnecessary.
Other songs popular in the film are 'Gloria' 'Maniac' 'I Love Rock 'n' Roll' and of course the iconic 'What a Feeling'. However, unlike most dance musicals, people were not up singing and dancing in the aisles until the very end and that was with encouragement when urged by Adams to "All get on your feet!". The whole show really came alive in the last numbers, the set was lit up brightly and everyone appeared more vibrant and having a good time. Indeed, it now did earn 'What a Feeling' however it took time in getting there and for me Flashdance was little more than an evening of pleasant dance and song.
Reviewer: Lorna Weekes
Reviewed: 23rd October 2017
North West End Rating: ★★★