As a lifelong fan of Elvis Presley I was really looking forward to this show which is currently touring the UK and starring Canadian Steve Michaels as Elvis. Michaels has had international success performing as a tribute artist to the iconic star and has shared a stage with the legendary Jordanaires and Sweet Inspirations who recorded and toured with Elvis for many years.
The show starts with Elvis and his friends known affectionately as The Memphis Mob, a group of loyal and trusted friends who were around him for most of his career who include Joe Esposto (Reuven Gershon) and Charlie Hodge (Mark Pearce). They discuss the need to get Elvis back performing live shows after spending several years making films and recording albums of the soundtracks, but Elvis is nervous of making that step. There are telephone conversations with wife Priscilla, seemingly feeling neglected whilst he is having too much fun with his friends but she doesn't actually appear in the show, nor does Colonel Tom Parker, Elvis's manager.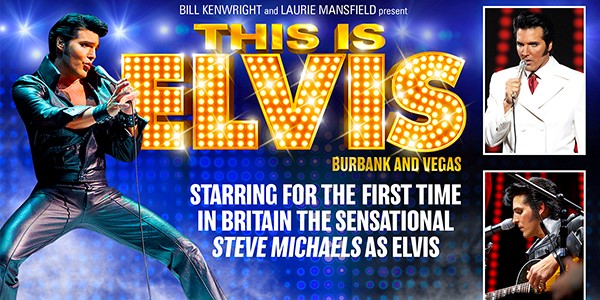 The show continues with Michaels as Elvis appearing backstage and declaring he will not be going on stage at NBC where he is scheduled to perform in a Christmas TV special, but overcoming the nerves, he relents and there follows a relaxed jamming session with him playing guitar and wearing the famous black leathers. Producer of the show Steve Binder (Benjamin Stratton) suggested he sang old hits on the show whilst his manager Colonel Tom Parker envisaged Elvis singing Christmas songs and in a rare rebellion Elvis goes with Binders ideas and sings hits such as 'That's All Right Mama' and 'Heartbreak Hotel' amongst several other audience favourites. There is great excitement in the Presley camp at the rave reviews he receives and Elvis gaining confidence decides live shows are what he wants to pursue. Parker successfully negotiates a deal with The International Hotel in Las Vegas for him to perform.
'This Is Elvis' is billed as a musical but there is very little substance to the show with the first half giving little information about Elvis and the second half lending itself to a tribute act with Michaels really only performing songs from the Las Vegas days supported by the Sweet Inspirations. The first half lacks vitality with few acting skills. There are discrepancies too with well documented information about Elvis both on the NBC show and the first Hotel International appearance, which are I feel relevant to the show. In reality on NBC the finale ended with Elvis wearing a white two piece suit and singing 'If I Can Dream' which is perplexingly omitted at this stage but features at a later part of the show. Elvis appeared at Las Vegas on the opening night wearing a black two piece outfit known as the Herringbone but tonight he is portrayed wearing a white jumpsuit. I suppose you can't please all of the people all of the time and the use of the white jumpsuit is possibly more well-known! Even the guitar used is wrong. For a show called 'This Is Elvis' I at least expected an accurate portrayal. There are other issues which die hard Elvis fans will be aware of but maybe the general audience are more forgiving! There were times when the band appeared to be playing along to backing tracks and didn't sound right. Michaels struggled occasionally with moves, not packing the punch Elvis had and also forgot the words a couple of times during 'Always On My Mind' one of my favourite songs.
I appreciate there is 'Only One Elvis' and it is early days on this current tour but I expected more from this musical and left the theatre underwhelmed.
Reviewer: Lorna Weekes
Reviewed: 5th February 2018
North West End Rating: ★★★