Going to see Shrek in Blackpool with my sister in law and 10 year old nephew and 14 year old musical-mad niece, we were all feeling pretty excited. After all, it's a hilarious film with loveable, quirky characters and generally a good time. Sadly, that didn't quite translate onto the stage.
Visually, this show is a masterpiece. The set and costumes are incredible, and the ingenious use of projection has you hooked from the very first storybook scene. Puppets are used creatively and are a fun addition, with the dragon being the highlight of the show for me. Several puppeteers controlled this enormous, lifelike dragon and it was astounding.
Unfortunately, the rest of the show was just… meh. Don't get me wrong, there was nothing inherently bad, but there wasn't anything amazing either. Perhaps it was the constant talking around us, or the 10 different people who got up to go to the toilet during every song, but I didn't find myself drawn into the story at all - it all seemed a little flat.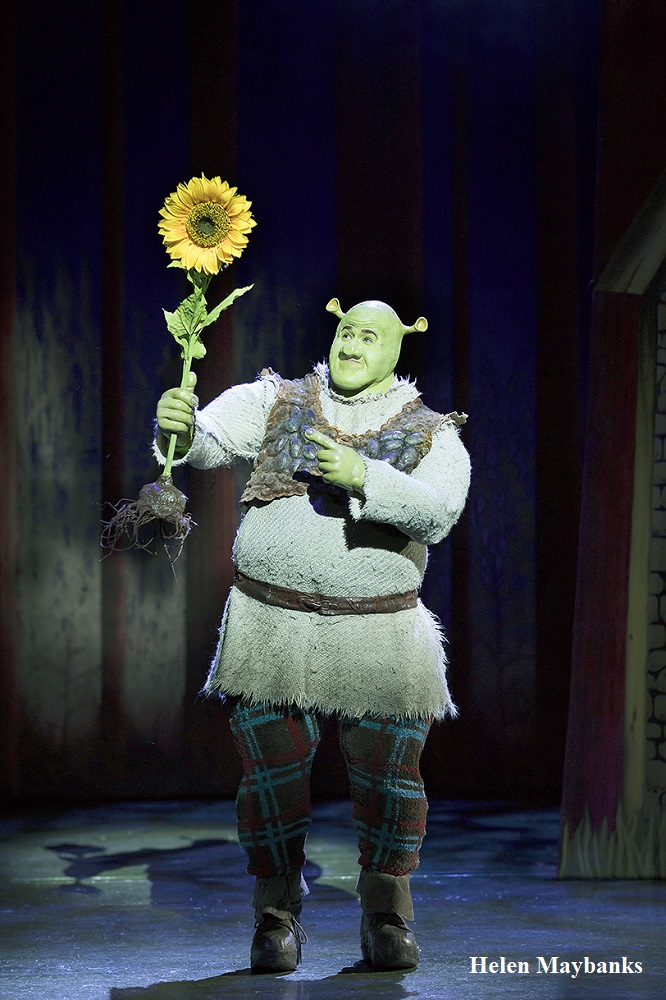 The story is what we are used to - Shrek (played by Steffan Harri) is banished to the swamp on his 7th birthday. He grows up happily enough, until one day, a swarm of fairytale characters descend on his land. These include Pinocchio, the Big Bad Wolf, the Three Little Pigs and Bears and the Sugarplum Fairy. We only see these characters in this scene, and near the end, which is a shame as they are a lot of fun. Both Jennifer Tierney as Mama Bear and Lucinda Shaw as the Fairy Godmother have the best singing voices in the cast, but they are sadly not heard enough.
Shrek embarks on a quest to Duloc to find Lord Farquaad and get him to get the fairytale creatures out of his swamp. On the way he meets Donkey, played by Marcus Ayton. Ayton is a lovable, very funny Donkey, although his American accent slipped at times and it took us out of the moment. As the story goes, Donkey clings on to Shrek and together they make their way to Duloc and to Lord Farquaad.
Farquaad is played by Samuel Holmes, (on his knees) and visually, he is the funniest character in the show by far. I cried laughing at some points and he was the only actor who seemed to really connect with the audience. He sends Shrek and Donkey off to a castle to save Princess Fiona, played by X factor finalist, Amelia Lily.
Lily's Fiona is… okay. For someone who came third in a singing competition, I didn't find myself blown away by the vocals at all in the way you expect to be in a musical. She was fun and quirky as Fiona but it did take a while to warm up to her. Her American accent was another slightly awkward rendition and her character felt a little two dimensional at times.
The songs were not overly catchy and there were parts missing from the Broadway version. Some jokes were straight from the movie, which were crowd pleasers but a lot fell a little flat.
The show is… fine. It just doesn't live up to the film and lacks a lot of energy. It appeared a few families left in the interval and the 10 year old with me found it a little boring. That said, 14 year old niece loved it. We're not all believers.
Reviewer: Codie Wright
Reviewed: 16th May 2018
North West End Rating: ★★★