Blackpool is world famous for its illuminations, Tower, beaches and Golden Mile but it has much more for visitors – and earlier this year Visit Blackpool launched #theBside, an initiative to showcase some of the resort's more off the wall offerings.
Over the past couple of years I've seen the amazing Circolombia perform in the Tower Circus, been enthralled by immersive theatre while riding on a specially designed backless bus in Rear View, and even had my face projected on Blackpool Tower as part of last year's Lightpool Festival. Now Lightpool is back, and Light Odyssey was its amazing launch event.
Take the BBC Philharmonic Orchestra and put them in the awe-inspiring Empress Ballroom. So far so… predictable? Let's add a touch of Blackpool sparkle into the mix then, shall we? An international group of animators were tasked with creating pieces to complement the programme of music – and boy, did they live up to the challenge! The resulting flights of fantasy gave a whole new meaning to the phrase 'light orchestra'. Surely the Empress Ballroom has never looked more beautiful?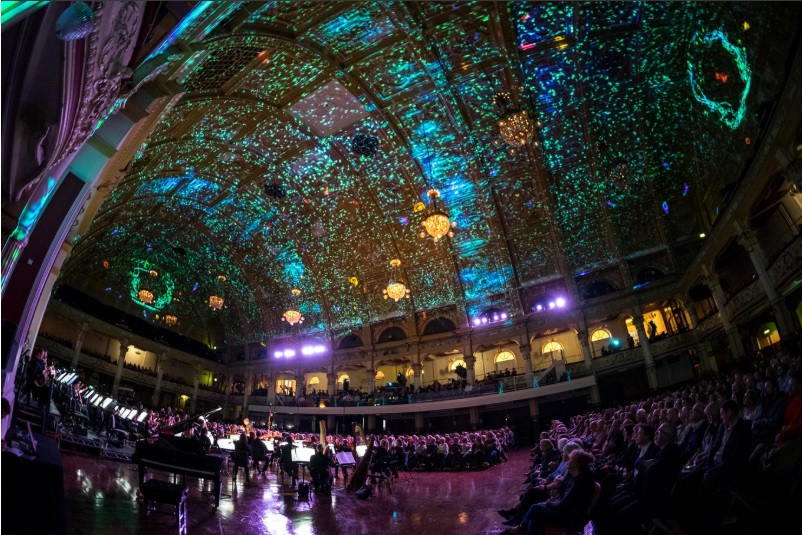 The programme of music included San Saens' Danse Macabre – known to telly viewers of a certain age as the theme to Tales of the Unexpected – and the atmospheric animation by Nick Azidis and Rose Staff fitted the bill perfectly. It was dark, moody and downright spooky, transforming the venue into a hauntingly beautiful, slightly scary tableau that worked well with the mood of the piece. Another familiar item in the programme was Barber's Adagio for Strings, used to such great effect in the film Platoon. Here, it was animated by Joe Mason, who took inspiration from the Ballroom's vaulted roof and symmetrical designs and brought the room to dazzling life. As the evening progressed, a capacity audience also went underwater, marvelling at aquatic life floating above their heads, spent time star gazing and even had the chance to look beyond the roof and up into a sky filled with birds which could well have been seagulls!
The evening was a feast for the ears and the imagination, and at the heart of it all was the BBC Philharmonic and their conductor Eivind Aadland, whose effusive conducting style sat well with the ambience of the evening. Twice during the programme, the animation took a back seat and we were able to devote our full attention to the fine playing of the orchestra itself without any distractions. Their witty rendition of Bernstein's Symphonic Dances from West Side Story brought me close to tears.
A unique, stunning, wonderful evening and one that will stay in my memory for years to come. The B side's a mighty fine place to be!
Blackpool's Lightpool Festival runs from 25th – 27th October. For more details of a range of free events on offer, visit www.visitblackpool.com/lightpoolfestival
Reviewer: Sandra Mangan
Reviewed: 18th October 2018
North West End Rating: ★★★★★