It's sad that there were so few people in the audience for this performance of Dirty Dancing. The seats were more than half empty and I do feel as though it affected the atmosphere, although of course it did not affect the passion and energy of those on stage and by the final number you could have been forgiven for thinking that they were playing to a packed house.
We are transported to Kellerman's holiday resort in the summer of 1963, where 17 year old Baby (Kira Malou), her sister Lisa (Lizzie Ottley who is certainly the comic relief of the show and played her part flawlessly) and parents Marjorie and Dr Jake (Lori Jaley Fox and Lynden Edwards) are on holiday. We meet professional dancers, Johnny Castle (played by the incredibly handsome Michael O'Reilly), and Penny Johnson (the beautiful Simone Covele whose flexibility knows no bounds) who are instructed to give the guests a good time. As we know, that's exactly what happens.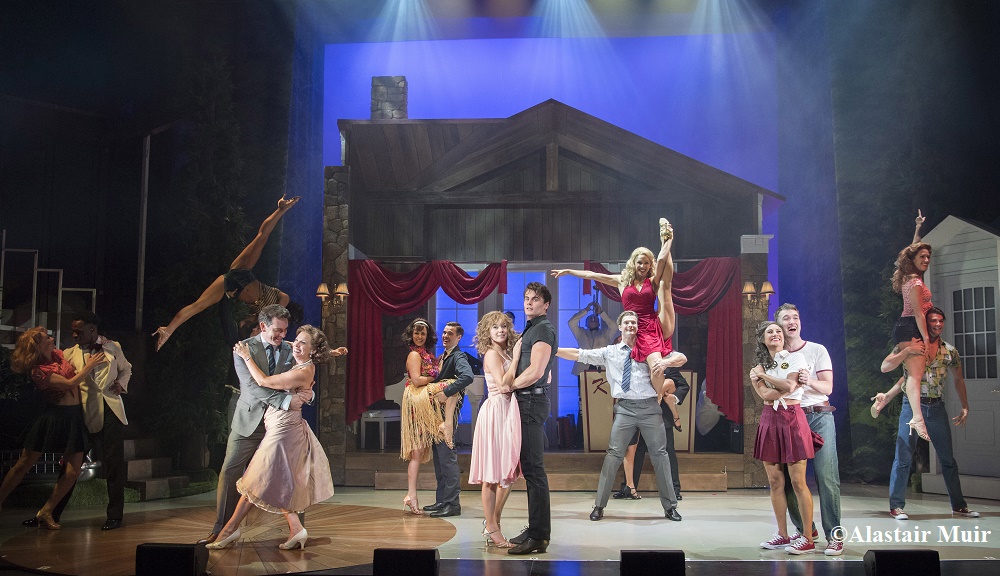 The story moves incredibly quickly which did make it a little hard to follow at times, especially if you are not familiar with the plot. With a show like this, it is hard not to draw comparisons between the film and stage show, and although a lot of the general storyline and even a large proportion of the dialogue is the same, there are some differences. For example, it seems to take a little longer for Baby & Johnny to develop some chemistry, however when they become a couple, they seem a lot more romantic than in the film. The age gap also seems a little smaller in the stage show, which gave a different dynamic.
Baby and Johnny were both very well cast, with Baby being naive and loveable but growing in confidence throughout the story, and Johnny being moody and brooding but with a soft spot that is shown with Baby. However, one thing that I must point out is that some of O'Reilly's lines were lost a little due to a weak American accent and regular shouting. This did make it a little uncomfortable occasionally but was more than made up for by his moves! O'Reilly really brought Jonny to life and it was easy to see why Baby (and everyone else!) fell in love with him. The teaching moments, and the big finale number were incredibly passionate and you could feel the heat between them both.
Visually, this show was stunning! The costumes, the set, the choreography - absolutely breath-taking, as you would expect. There were a few ropey moments. For example, after the interval (when there was a lot of drilling...!) a stage hand could be seen turning one of the turrets (it didn't help that she wasn't wearing black...) which was a little distracting. The set turrets were really fantastic however, and a quick and easy way to know where we were at each time. The use of projection really helped to bring the show alive, especially for the outdoor scenes (yep, that outdoor water practise was translated to stage!), although I'm not sure if it was supposed to be comical, seeing the pair pop up from the lake but it did make the audience laugh several times - deliberate or not.
The show features songs from the iconic soundtrack, including 'Hungry Eyes', 'Do You Love Me' and of course '(I've Had) The Time of my Life', as well as some original numbers. Most of these numbers are part of the holiday resort repertoire, but those that aren't are performed wonderfully by Sian Gentle-Green. Although it's a little unusual for a show like this, Sian's numbers are very welcome and when teamed with Alex Wheeler for the final dance, they are really powerful. There are not many classical 'musical' moments where characters sing their feelings, except for a random duet between Baby's parents which sits a little awkwardly and the sound quality throughout was not on point as it should have been.
Overall, the show is a sexy coming-of-age romp, and a delight for all the senses. It would be a cliché to say you'll have the time of your life, but you really will!
Reviewer: Codie Wright
Reviewed: 13th November 2018
North West End Rating: ★★★★