Circus of Horrors is currently on tour with its 25th anniversary show. The company have appeared on many TV shows and were even semi-finalist on Britain's got Talent 2011. The show is advertised as not family friendly or for the faint hearted.
It becomes clear why when the show starts and the company leader and show created John Haze enters the stage. He begins swearing and telling anyone who is easily offended to F**k off. It clearly was meant to be funny but it came across more of a cheap joke and being crude for the sake of it, making the audience feel a bit uncomfortable.
The show featured acts as expected such as contortionists, aerial tricks, acrobats, fire eaters and sword swallowers. All of these were thoroughly entertaining and, at times impressive. The costumes and set are of a relatively high budget and did make you feel as though you were thrust right into a "Circus of Horrors"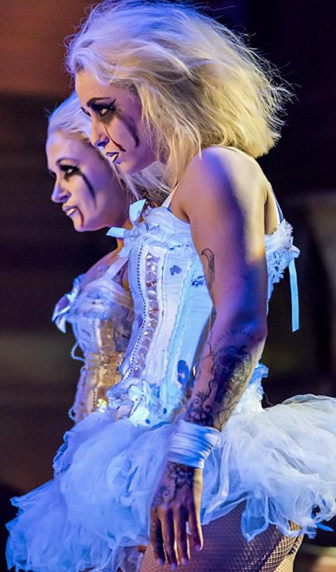 The show runs with live music throughout. Which is of rock/metal genre. The songs are mostly original and sung by the leader, John. Although I understand what they were trying to achieve with this music and the theme of the show I think unfortunately it just didn't have the desired effect. I would say approximately 10% of the audience left at the interval to not return for the second act.
The second act followed much in the same way. Clowns were now involved - trying to capture acts that performed before the interval. The majority of the audience seemed puzzled by this, as it had not been made clear there was a story that we were meant to be following. The only explanation being that it purely have been told throughout the incoherent songs.
There was one section of the show that truly was mesmerising and saved it from being a complete disaster. This was a dance section from an amputee who had just been sawed in half. His movement skills were unbelievable and the choreography for this was pure genius. If the production could improve the rest of the show to even 50% of this act then they would have something quite special.
I think unfortunately this circus show has simply got left behind the times. Many people have now witnessed circus tricks on TV or at a larger scale theatre show. Meaning this production just seemed very flat and with no originality. The tricks were just all ok and unfortunately the majority had all been seen time and time again. Meaning there was nothing that made the audience go wow or wonder how it had been done. The concept of a horror circus though is great and I think with some modernisation and improvements the production could keep running for another few years. Unfortunately though I would not recommend this show in its current state.
Reviewer: Eleanor Seth
Reviewed: 11th February 2019
North West End Rating: ★★