There ain't no party like Abigail's Party – even though we never actually go there! This Mike Leigh play holds a well-deserved place in the annals of British comedy theatre and 40 years on it still works exceedingly well with audiences.
It's the late 1970s, and in a suburban street, five neighbours are gathering for a few drinks and some sophisticated seventies canapes – pineapple and cheese cocktail stick, anyone? The hostess with the mostest is Beverly (Jodie Prenger), a larger than life character who wants her guests to enjoy themselves – helped along by copious top ups of gin and tonic and Bacardi and coke. Beverly's husband Laurence (Daniel Casey, best known as DS Gavin Troy in Midsomer Murders) is an estate agent who is working at capacity to give his wife everything she demands, and the more we get to know them, the more the audience begins to see that all is not well in their relationship.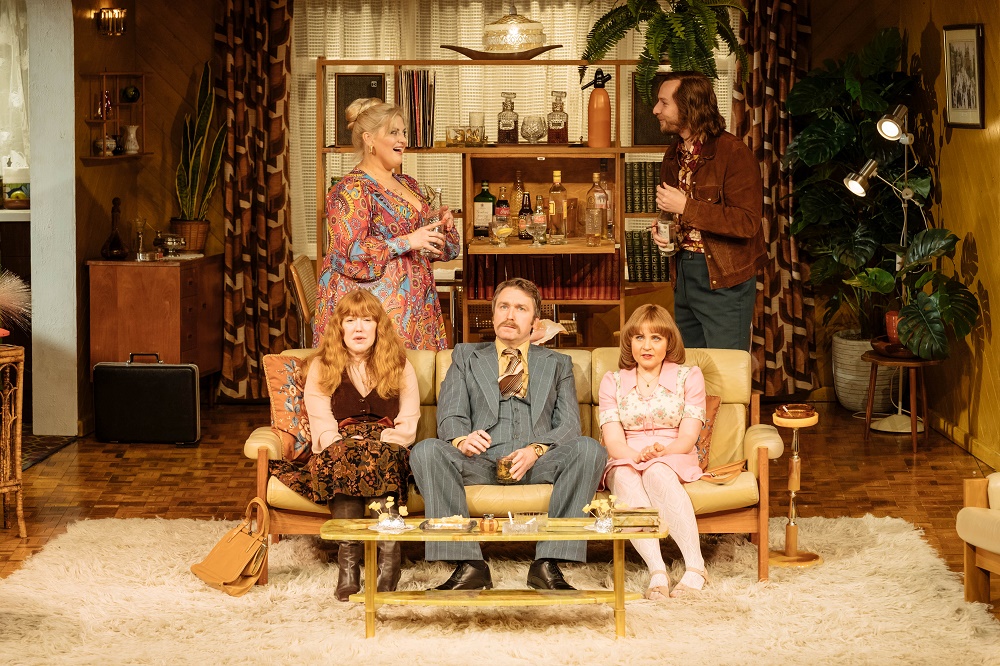 First to arrive are Angela (played by Emmerdale favourite Vicky Binns) and Tony (Calum Callaghan), who've just moved into the street. Angela in particular is keen to meet her new neighbours – and, it appears, equally keen on G&Ts – while the last to appear is Sue (Rose Keegan), a much more refined and reticent divorced mother of two, whose 15-year-old daughter Abigail is having a party and wants her mum out of the way.
They're a disparate bunch (in Beverly's case, that perhaps should read desperate) and have little in common, and as the evening progresses, things begin to unravel in hilarious fashion. It's good to have a comedy that actually makes the audience erupt with laughter – and in Abigail's Party there are laugh-out-loud moments aplenty.
Central to it all is Beverly, played with razor sharp comic timing by local lass Jodie Prenger. It's a role made famous by Alison Steadman but Prenger gives it her own spin, right down to a grating accent which never once faltered throughout the performance. She's the stand out here, but that's not to say the other four members of the ensemble let the side down. Each one played their part with panache and they all looked to be having a whale of a time.
For a child of the 1970s like me, the set was a pure joy and filled me with nostalgia. The costumes and set dressings were spot on and my theatregoing companion and I compared notes at the interval with cries of: 'We had one of those' and 'Do you remember?'
Taken at face value, this is a first-class comedy with a first-rate cast – but it also has its moments of poignancy and these are also handled brilliantly. In short, a most enjoyable piece of theatre and a fine homecoming for Sand Grown 'un Jodie!
Abigail's Party is at the Grand Theatre, Blackpool until Saturday, 16th March. For tickets and more information visit https://www.blackpoolgrand.co.uk/event/abigails-party
Reviewer: Sandra Mangan
Reviewed: 11th March 2019
North West End Rating: ★★★★