Many have caught wind of the fracking protests in Blackpool and other parts of the North. Jo Catlow-Morris has created a play about it and it's performing tonight as part of Preston Fringe. This is a shortened excerpt of 30 mins and it concentrates on five of the protestors, who are all in fact Nannas, hence, the name of the play. The scenery is done very well, simple homely kitchen table with a pot of tea, and biscuits. The ladies are dotted around, Bex, Becky, Lesley, Ruth and Anjie. They are dressed in white, giving an ethereal quality to them. They also have yellow tabards with slogans on depicting their protest.
It was very intriguing and an informative look at how they were brought together, from quirky moments, - 20 Nannas in taxis in the middle of the night, they often poke fun at themselves. To heart rendering moments when one of the Nannas tells us about her battle with cancer.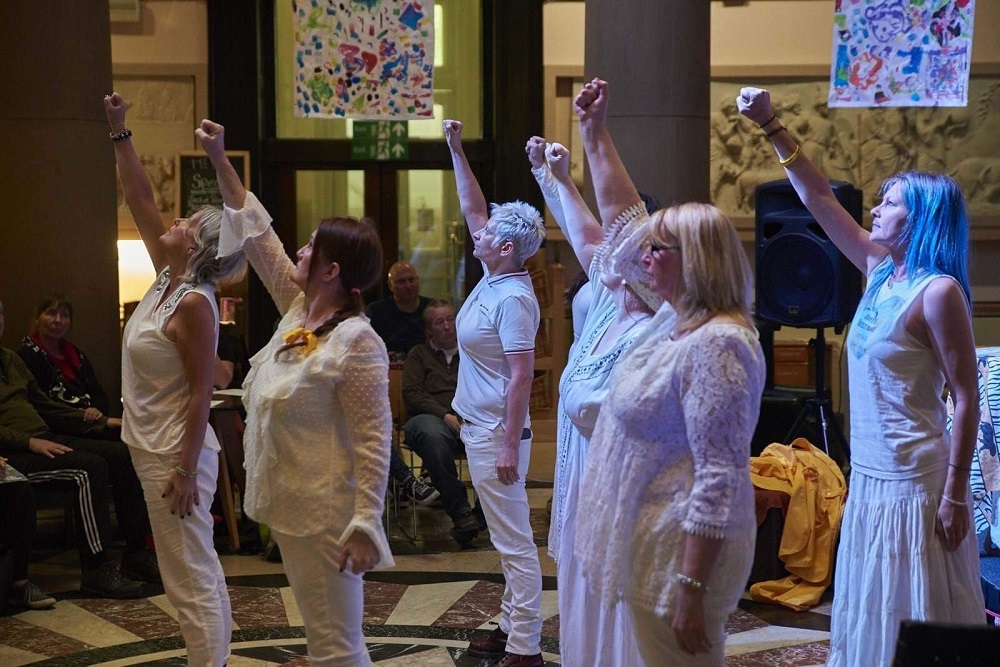 Each one tells there story which brings a very personal element and illustrates they are all just everyday people who have fought for an environmental cause. One thing is clear they are a force to be reckoned with, their story both empowers and inspires. The end part where the cast all form a circle and walk around displaying different thought provoking banners was very moving. A fascinating tale of female activists who came together in a moment of crisis.
The following show was performed by Kate Fox, a Northern poet and comedian. She strides on stage in a floral dress with bright red tights and a mop of bright blonde hair. Behind her is a washing line with a selection of bras on it. Again an intriguing title only serves to build excitement of what to expect, especially with it being fringe.
She entertains with a bold acerbic wit that pokes fun at many including, male politicians, and what she calls the Northern 'curmudgeons,' seemingly types such as Michael Parkinson and Geoff Boycott.
Then what follows is a celebration of often unsung northern heroines from the world of sport and literature, interspersed with comedy, and the occasional poem. It was very informative, like a very funny entertaining lecture. She mentions Ena Sharples, Hull's head scarf revolutionaries and many more. It raises a lot of questions about why women don't seem to be remembered as much as their male counterparts. For me it was great to find out about Hilda James from Garston the Olympic swimmer and her fascinating story. Also local lady footballer Lily Parr who was in the Dick Kerr ladies team. Old long gone Lancashire comedienne, Hylda Baker is projected on a screen, and Kate relates some of her quirky catchphrases.
A truly memorable night which all in all proved to be a celebration of the Northern woman, be she a Nanna with a Banner, a quirky comedienne or an Olympic swimmer.
Reviewer: Rachel Foster
Reviewed: 22nd May 2019
North West End Rating: ★★★★