In 1973 Richard O'Brien penned a rock 'n' roll musical intended for an airing at the fringe events, yes it worked, yes it filled the 63-seater theatre time after time and larger venues were sort for the ever increasing audience. Now 46 years on surely it has run its course? Who on earth would want to watch two hours of complete and utter madness consisting of a loved up young couple, an eerie castle housing phantoms, a frightful butler Riff Raff (understudy Andrew Ahern), a transvestite crazy scientist Frank N Furter, who is hell bent on creating the perfect man and a whole host of other weird and wonderful characters? Throw in some songs that have become iconic, an amazing mostly unseen band, riding high above a curved movie film reel (MD George Carter), fabulous choreography (Andrew Ahern) outrageous costumes (Sue Blane) and seamlessly changing impressive sets (Hugh Durrant) and you begin to think, 'well yes.... there may be some appeal!'
With an announcement apologising for the few minutes delay in starting, it hardly gets noticed as there is very much a party atmosphere in the auditorium with a large proportion of the audience dressed as characters from Rocky Horror and people watching becomes much as a part of the show! This is my third time of seeing this (I was introduced to it only three years ago sadly, all those years missed!) and judging by this crowd I suspect the vast majority were not on their first visit.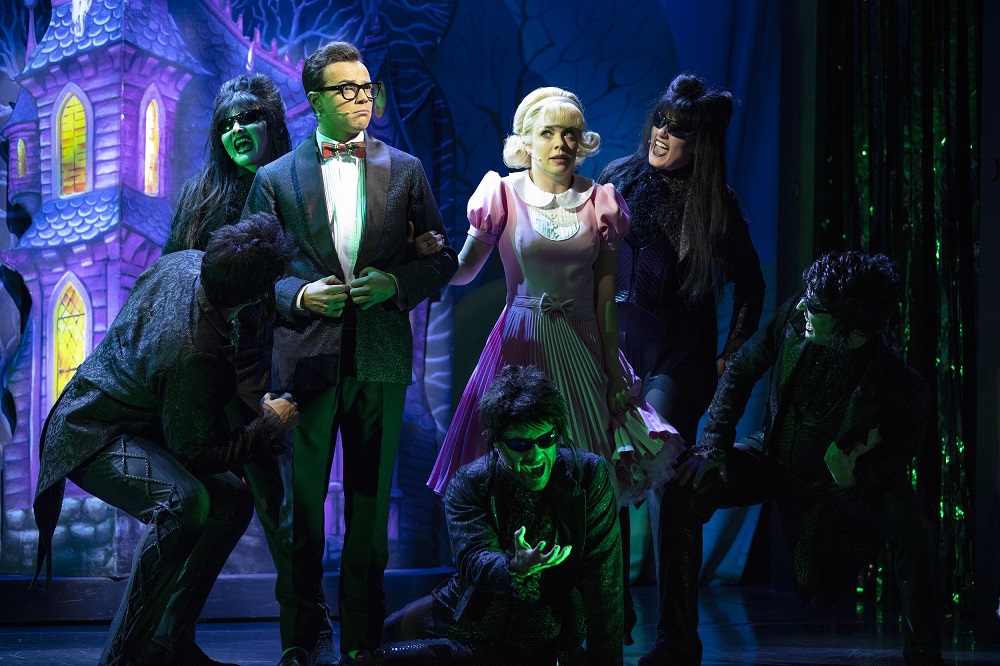 Opening the show is usherette (Laura Harrison, who also stars as Magenta) who immediately captivates the audience with 'Science Fiction' and that's it, you are drawn in and simply craving to see more. Curtains back and we have Janet (tonight performed by understudy Shelby Farmer) and Brad (James Darch) a naive young virginal couple, newly engaged, tootling along in their car when they suffer a breakdown during a storm and seek refuge at a nearby castle. Both give fabulous performances not only playing their parts but during numerous songs such as 'Damn it, Janet'. A 'friendly' butler invites them in and this is the start of a night they will never forget and nor apparently will the audience as narrator (understudy Kristian Lavercombe usually performing as Riff Raff) takes to the stage and is met with a barrage of what at first could be taken as hecklers but is in fact quips and answer backs and although these must be heard time and time again, they are handled perfectly with quick, witty retorts and superb comedic timing.
Despite going on to play in several west end shows and many TV appearances, Duncan James is possibly best known for performing with boy band Blue between 2001 -2005 (reforming in later years.... I've a sneaky feeling he is going to be remembered for something quite different now! I have to admit I could not quite envisage him for this role but as he struts onto the stage as Frank N Furter, cutting a magnificent figure clad in corset, stockings and high heels he commands the part, a wicked evil laugh, a glint in the eye he is endearingly lovable with a hint of menace. Such a 'Sweet Transvestite!'
Not content with shouting out to the narrator the audience are up on their feet dancing away to the 'Time- Warp' which features fairly early in the first half and then again at the end. Even my ever reluctant to participate other half was up on his feet, although I'm glad to say not quite dressed for the occasion!
The perfect man creation of Frank is of course Rocky and if muscles are your thing then you will not be disappointed with the scantily clad incredibly acrobatic Callum Evans (Welsh acrobatic gymnastic champion and runner up in British title) who also just happens to be able to sing too. Special mention to a further understudy Katie Monks for a fabulous entertaining Columbia and I did detect Frank N Furter struggling to keep from laughing at her antics. It is all credit to the cast that they are able to perform as several other characters should the need arise for a show and I was definitely not disappointed at any of the changes.
Rocky Horror is attracting new audiences as the years roll by, it's an absurd, scintillating parallel universe of a show which leaves you wanting more.....but why? ....You will be hooked, you will return, and Rocky Horror will continue to fill theatres.
Reviewer: Lorna Weekes
Reviewed: 24th June 2019
North West End Rating: ★★★★★