On Monday night, I went to see, the longest running show in history. The Mousetrap. I have wanted to see this show for a number of years, and it was worth the wait! A very good, highly professional show from start to finish by all involved.
We open in the Monkswell manor guest house. Run by Giles and Molly Ralston (Harriett Hare and Nick Biadon) very believable as the young, in love, hoteliers. There is a chemistry, between these two versatile actors, which does not fail to shine through. You can see the trust they have for one another when delivering lines. Also, they bounce off each other in a lovely, charismatic way. Excellent casting and acting.
A terrible blizzard has just hit. And, we see the characters turning up at Monkswell , one by one covered in snow. (very realistic, you can actually see the cold in them. How much they long for the warmth of the roaring coal fire) whist at the same time, the wireless tells us of a murderer on the loose!! (very eerie)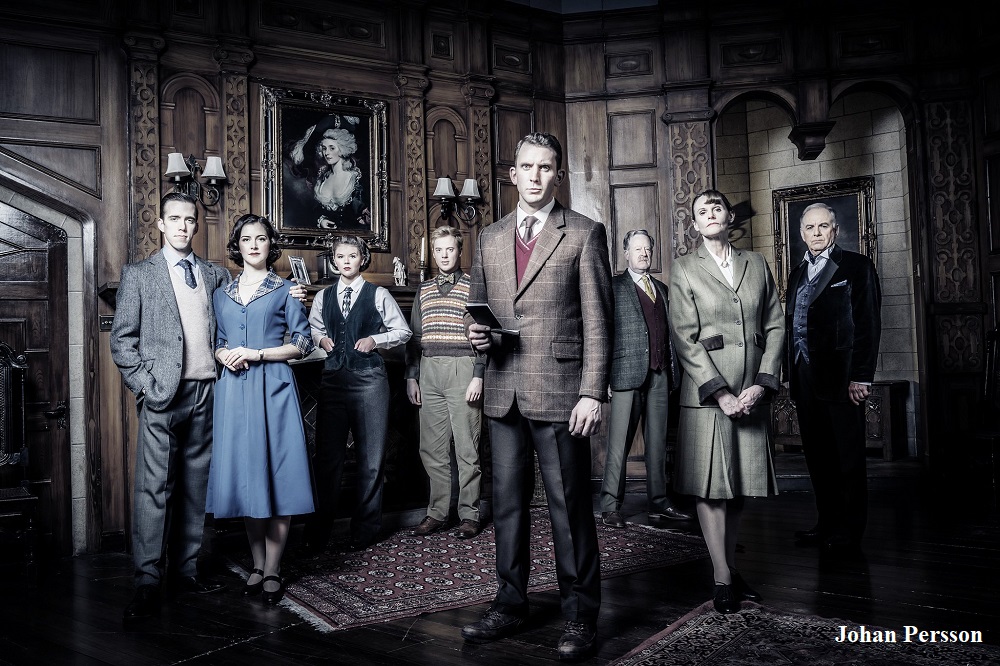 The arrival of Mrs Boyle (Susan Penhaligon) was a hoot! She is the nightmare guest, who anyone and everyone doesn't want to spend time around! She is the typical old, moaning, never happy, complains about everything guest. So, I was not surprised to find out, she becomes the first victim! (I will say no more, as I want you to enjoy it as much as I did)
Penhaligon is superb! In fact, my favourite character. Her cutting remarks made me laugh out loud on a number of occasions. She is clearly, the pinnacle of professionalism, and I am quite surprised I haven't heard the name before. Absolutely, wonderful comic timing, who, for me, brought the show together!
Christopher Wren (Lewis Chandler) was a scream a minute! The audience members, I spoke to in the intermission loved him! Chandler has a quality about him, that you can't help but like. When he first came on stage my first thought was, Kenneth Williams. High praise indeed. This actor will go far.
The majority of the dialogue was delivered by Sergeant Trotter (Geoff Arnold) His accent was believable, although, I did feel, he rushed responses, on one or two occasions. Which could be down to, the amount of dialogue, the believable actor had to learn. A breath and a pause here and there, would have got the full effect of the line and made it more convincing. However, Arnold, made up for that, very slight, Faux pas, later on. A wonderful actor, whom, I loved.
Mr Paravicini, (David Alcock) for me, was great! I loved the characterisation he brought to the production. Accents are HARD, very difficult. When I interviewed other audience members after the show, one said, "He's not what I thought he would be" and another said, "He's kind of Dracula esq" which personally, I thought was the point. Alcock ticked all the boxes. In my opinion, A lovely take on a very difficult role.
Miss Casewell, (Saskia Vaigncourt-Strallen's character) was extremely stand offish, "I don't give a damn, what you think of me" kind of portrayal, which was beautiful. We knew, from the first second of meeting her, she simply, does not care about your opinions of her. But we know she's keeping something from us! A lovely performance!
When the Major Metclaf (John Griffiths) was introduced to us, my hairs stood up on end! What can I say about believability? The accent! The stance! The way of looking down his nose, but in a very subtle way, was outstanding. We really have a whole ensemble of excellent actors here!
The set was just lovely. The beautiful, wooden interior of Monkswell manor was incredible. Time lapses, through day and night, were convincing, snow on the windows were very good also. I really don't have a lot of negatives to report on this show, other than. I could feel the script on one or two lines, a tiny bit rushed in places, but all in all, a wonderful production by superb talent.
Not forgetting the unsung heroes of the show, which, I feel, could not have been to such a high standard without, Steve Robertson, company stage manager, Ela Scmid deputy stage manager, Emilie Nutley Tech ASM, Edith Kirkwood ASM understudy, Will Jackson sound and Caroline Heppell Head of Wardrobe department.
Congratulations on a wonderful show.
Reviewer: Sean McLaughlin
Reviewed: 23rd July 2019
North West End Rating: ★★★★