So, who are the Addams family? Well go on....do you really need an introduction? They're creepy and they're kooky, mysterious and spooky, they're altogether ooky....the Addams family! Admit it... you are now singing the signature tune and clicking your fingers as are the audience at Blackpool Grand theatre from the minute the opening bars started.
This comedy musical is from the book written by Marshall Brickman and Rick Alice with music and lyrics by Andrew Lippa and based on characters created by Charles Addams in 1938 and is tonight performed by Ensemble Theatre. With cartoons, tv series, theatre productions and movies, the Addams family is a much loved story which continues to have success across the world.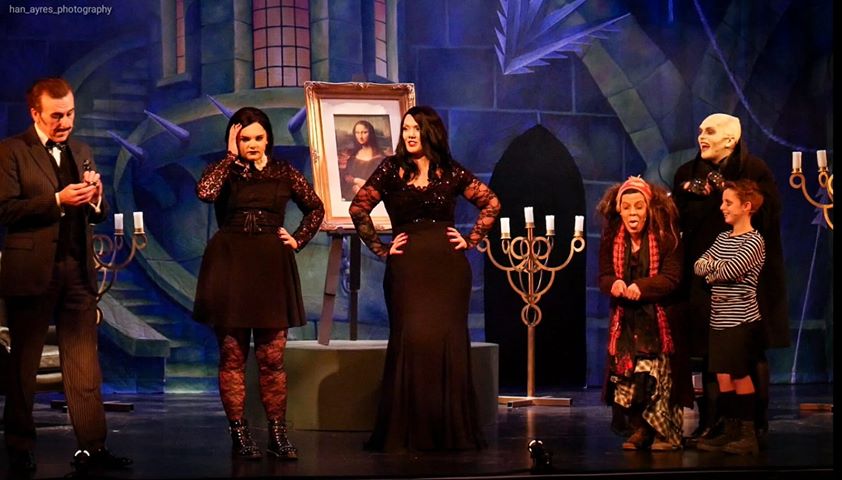 The stage is set with an impressive scene from within the Addams home and bar a few simple accessories remains throughout the show which enables the continuity to flow smoothly. A small centre podium made use of for several characters is a creative way of highlighting them. Lighting is very good particularly enhancing a tango dance scene between Gomez and Morticia with dramatic lighting effects. Sound on the whole is fine although on a couple of occasions the music drowns out some of the dialogue particularly Uncle Fester (Callum Morley). Costumes are suitable and expected attire for each family and the outfits for the dancers, spooks, ghouls or whatever you wish to call them are especially effective.
At the Addams family manor daughter Wednesday (Chloe Haley) is in love, much to the dismay of her doting father Gomez (Andy Vitolo) and mother Morticia (Hannah Ayres). No parent is happy that their offspring wants to marry a totally unsuitable, unsavoury character and for the Addams this presents a major problem. Lucas Beineke (Cameron Niland), the one to capture Wednesdays heart is a good, clean living, all American boy from a respectable family, oh horror of horrors not at all the son- in-law they envisaged! A family dinner is planned for the respective families to meet with both young lovers desperate for them to get along and accept their 'normal' lives. How will it all turn out? After the party games and 'Full disclosure', will it be a miserable happy ever after for the Addams or a nightmare for the Beineke's? (Mal/Keith Kielthy and Alice/ Cassandra Orchard), some home truths and soul searching are on the agenda.
This is very well put together production and everyone worked incredibly hard to present a polished show. There is little sign of first night nerves, some excellent vocals from all the characters with special mention for Haley, Ayres and Orchard. Swashbuckling Latin lover Gomez retains his accent throughout and his love for his family is evident, if the loyalties are torn. I did feel there was a slight lack of flamboyance and passion between him and Morticia although the 'tango' restored that, Morticia definitely ruling the roost.
The role of young brother of Wednesday, mischievous Pugsley Addams, is performed this evening by Bailey Fieldsend (a role shared by three for different performances) who gives a great performance of 'What If', even if he is slightly more cute than sadistic and tormenting, but nevertheless plays a great part. Fester is endearing, his 'Moon and Me' a poignant moment during the show and you cannot help but love the character.
The zombie, grunting butler Lurch Addams (Nick Siddall) proves he can more than grunt during 'Move towards The Darkness'. Grandma (Rachel Hayes) adds to the fun as does the 'Mummy' (Seamus Graeme) and no I don't mean Morticia or Alice! Choreography is imaginative and the dancers are excellent and slip in and out of the sidelines and around the characters brilliantly. Lucas (Cameron Niland) and Wednesday give excellent portrayals of their roles as their young love emerges. Both Orchard and Kielthy epitomise the straitlaced American couple perfectly.
The opening 'When You're an Addams' with this strong cast set the standard for the whole show, clickety-click and your hooked! One disappointment.... I really did want to see Fester fly across the stage to the moon!
The Addams Family continues until Saturday 21st September and for more information and tickets: https://www.blackpoolgrand.co.uk/event/the-addams-family/
Reviewer: Lorna Weekes
Reviewed: 18th September 2019
North West End Rating: ★★★★