David Robert Jones was a singer/songwriter, actor who sadly passed away in 2016 and arguably one of the most iconic figures in music history. So as not to be confused with Davy Jones of the 1960's group The Monkees' he changed his surname to Bowie and the legend was born.
With his artistic flair and ability to reinvent himself there was never anyone quite like him vocally and visually so presenting a show representing Bowie is always going to be a challenge. Taking on that role in The Bowie Experience is Laurence Knight supported by a seven piece band. The stage is set with the band members either side, and a backdrop showing multiple projections, some relevant to songs others more a distraction of abstract swirls or black and white movie clips. Staring down from the top are the 'eyes', Bowie had distinctive eyes, with one pupil permanently dilated giving the appearance of one blue eye and one dark eye.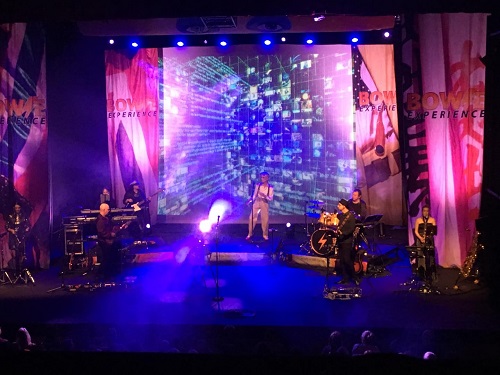 "Ground Control To Major Tom" echoes around the theatre and here begins an entertaining evening of well-loved and known songs of Bowie. Clad in the Starman multi-coloured lycra outfit, Knight struts, poses and bears a passing resemblance to Bowie but gets off to a shaky start with occasionally sounding off key and I wasn't sure at first what to make of him. Is this a tribute, impersonator or someone who performs a combination with his own take on it? As the show went on I feel Knight, although at times sounded very alike Bowie there were numerous times he didn't so I'm assuming he added his own touch. There is a fast flow of popular songs during the first half including 'Space Oddity', 'Starman', 'Lady Grinning Soul', 'Life On Mars' to name just a few and a fabulous rendition of 'Man Who Sold The World'.
I preferred the second half of the show which I felt was much stronger and Knight appeared more comfortable for this period of Bowie's songs and outfits. The audience also began to join in more and needed no encouragement to 'Let's Dance'. Joining Knight singing 'Under Pressure' was talented percussion and backing vocalist band member, Charlotte Elizabeth Talbot. There are multiple costume changes which were completed swiftly with one change actually completed on stage. There is no doubt Bowie's outfits were outrageous and unique and credit goes to Amy Knight, exclusive costume designer and maker for the Bowie Experience, in recreating these. I was a little disappointed in band member's attire which was a bit of a mismatch and unremarkable and actually looked out of place against the flamboyant Bowie outfits but then I suppose the focus is on Bowie.
The fabulous band consist of Talbot as mentioned, Emily Westwood on saxophone and vocals, Drums Paul Gill, Tim Wedlake guitar, Lidia Cascarino Close bass guitar and vocals. For keyboard and the other guitarist I do not have full names as everyone was introduced only by first name and 'Martin and 'Jonny' do not appear on the cast list so apologies but your talents are appreciated and together with the other members the sound recreated is authentic and skilled. Shame no one introduced Laurence Knight! Lighting is effective and complimented songs and outfits throughout although at the very beginning I was dazzled by spotlights cast into the audience, a little bugbear of mine! Despite occasionally lacking in 'Sound and Vision' the Bowie Experience is a show of many talented artists and gives a respectful tribute to Bowie.....almost up to the challenge! https://www.bowieexperience.com/
Reviewer: Lorna Weekes
Reviewed: 7th November 2019
North West End UK Rating: ★★★★