The Floral Pavilion theatre turned into Motown party central last night as Exceptional Entertainment brought the show How Sweet It Is to New Brighton. It is a slick, energetic, full on 2 hours of Motown hits from some of the greatest male performers in history. With songs from the likes of Marvin Gaye, The Jackson Five, Lionel Richie and Stevie Wonder, this is a show that any Motown fan would love.
The show consisted of five super talented performers and a live five-piece band, under the Musical Direction of Steve Clark.
The stage was set with the band just behind and the five singers in front with microphone stands but they didn't keep it this way. The whole show was so well executed and choreographed, down to the formation of the mic stands to the full-on dancing that they continued to put so much energy in right until the very last song.
Lighting was simple but effective, enhancing the mood for certain songs.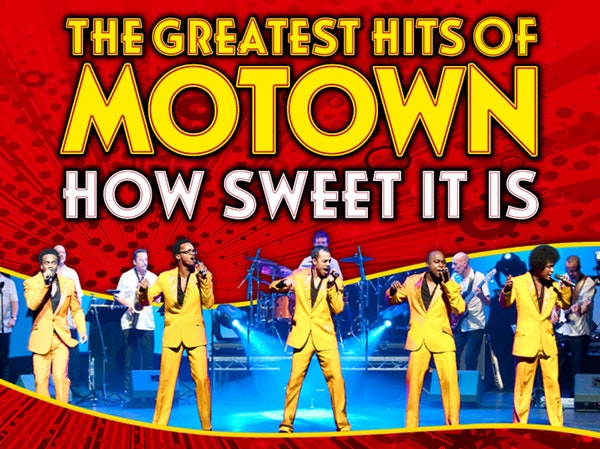 The musicians were fantastic, delivering stand out music and were really in tune with the performers during moments of audience interaction, performers enjoying their moment with vocal talents, the band followed their leader and it felt like a full package working together.
The five singers were incredible, and each stood out in their own way.
Martell O'Neill was full of energy, humour and fantastic dance moves. Delroy Blake had a vocal range that blew my mind, complementing the harmonies with stunning low notes and shining with lead vocals that had the audience going wild.
Michael Rowe was hilarious, narrating little bits of the show and showing the close bond between the band as they were having some banter during these narrated parts. His vocals were fantastic, and moves were full on. Geo Gabriel gave a wonderful performance, great moves with huge vocals.
Jordan King was another with a fantastic range, a very strong falsetto and his dance moves were the strongest for me. Very precise and each move delivered fully and finished with passion.
The singers wore a silver/grey suit in the first act, all looking the same and in the second act they all wore different outfits that seemed to reflect their personalities more.
As a five piece, you could see the bond and professionalism they share to deliver a well-rounded, slick show that had the audience dancing and singing all through. The audience were having an incredible night from the beginning, with groups up dancing around the side and back of the theatre and really getting involved to enjoy every moment of the show.
A full on, strong show that will have you clapping and dancing along from beginning to end.
Reviewer: Damian Riverol
Reviewed: 15th November 2019
North West End UK Rating: ★★★★★