The last time I heard so many Queen songs being performed live was by Queen themselves, in their original line up, back in the 1970s. So was We Will Rock You about to thrill or disappoint me, a long-standing fan of the band?
I'm delighted to say that this show is a must-see, and judging by the roars of approval of a packed house at Blackpool's Opera House, I don't think I'm alone in this judgment. Things started a little shakily, with a delay of almost 20 minutes for 'technical reasons'. As the ensemble opened the show the voices were a wee bit muffled – was the evening about to be ruined by sound issues?
Thankfully, things improved over the next couple of numbers and by the time Ian McIntosh showed his mettle with I Want to Break Free, the balance had settled down nicely. McIntosh took the role of Galileo Figaro, 'The Dreamer', and was a pivotal part of this intriguing storyline. Yes, you read that right – a jukebox musical with an actual, bona fide storyline, who'da thunk it?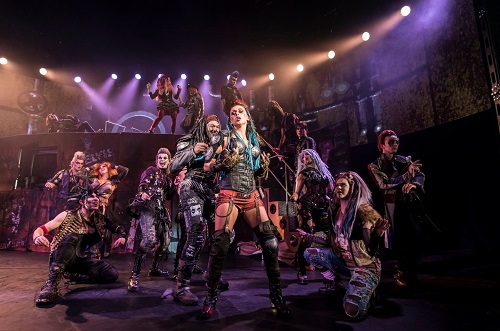 There are 24 Queen songs featured in the book by comic and author Ben Elton and every one of them slotted in perfectly. No need here for silly and unnecessary plot fripperies, this is a story that actually makes sense and is pretty funny too.
So, what's it about? In the future, the Earth is controlled by the internet, which in turn is controlled by Globalsoft, controlled by the evil Killer Queen. Youngsters, be they from the Boyzone or Ga Ga Girls, are expected to comply, do as they're told and stick to the rules. But there's an underground movement who want freedom to listen to the music of their ancestors, something called rock 'n roll. They're a little shaky on the history of it all, but their hearts are in the right place and when Galileo arrives on the scene, with his talk of dreams and voices telling him cryptic messages (all of them song titles or snippets of lyrics), they realise he is the key to the future. Throw in a little bit of romance and the scene is set for a cracking good night at the theatre.
McIntosh is astonishing as Galileo, creating a compelling mix of daft teenager and pop prophet with a singing voice to die for. The same can be said for Elena Skye as Scaramouche, whose rendition of Somebody to Love had the hairs standing up on my forearms. What a voice, and she can act a bit too!
In fact, every member of the cast played their part in this most memorable of nights. It must be so refreshing for them to get the chance to really act as well as sing in a musical these days, and each and every one of them stepped up to the plate and gave it their all. This is an ensemble blessed by a wealth of fine voices, and special mention must go to Jenny O'Leary as Killer Queen, Adam Strong as Khashoggi and Michael McKell as Buddy, whose performance of These are the Days of our Lives brought me to tears.
The set was also a jaw-dropping triumph, with all manner of electronic wizardry which bewitched and bedazzled but added rather than distracted from the action taking place on the Opera House stage. The band, comprising just six players, are to be congratulated on an awesome night's work too.
I've heard it through the grapevine that tickets are scarce for this Blackpool run. If you can get your hands on one, then I'd advise you to hold on tight. What a start to a new year of theatre!
We Will Rock You is at the Opera House, Blackpool until Saturday, 11th January. For tickets and more information visit https://www.wintergardensblackpool.co.uk/whats-on/we-will-rock-you
Reviewer: Sandra Mangan
Reviewed: 6th January 2020
North West End UK Rating: ★★★★★