Wow is all I can say! As a performer myself I find myself to be very critical of other performances and I'd like to think I know and understand what I'm looking for. After seeing a large handful of both West End and Broadway shows and many local and amateur, I was expecting a good performance but not one as outstanding as what I witnessed! The Sound of Music at Blackpool Winter Gardens is definitely a show not to be missed. With this musical being one of my well known favourites, I had high hopes and they were very truly met! From the set and design, the cast, the relationships created on stage, the costumes, the vocals and acting, everything, I couldn't pick a fault if I tried!
There are some added little bits and more comedy brought to the show than what I know of, but unless you're a true fan like myself you won't really notice but I'm definitely not complaining about it either, it was a nice addition and brightened some scenes and made them stand out more!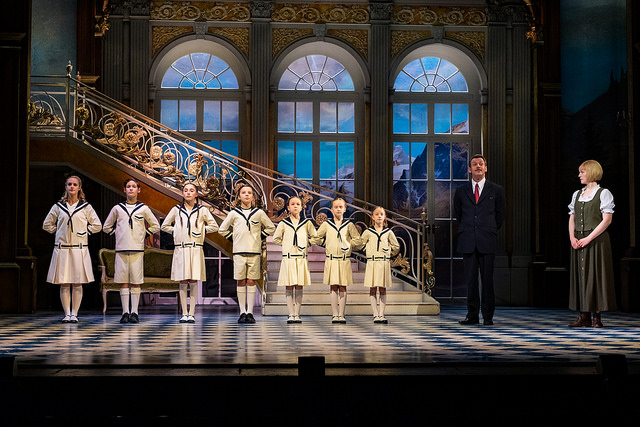 The characters Max Detweiler (Howard Samuels) and Elsa Schraeder (Clelia Murphy) really played off each other and made the dynamic duo we all need. They both individually brought extra to their characters and played it more exaggerated and comedic/sarcastic at times which really in my opinion livened their scenes and made it more understandable and easy to read but also made their characters more noticed instead of just being part of the story.
The vocals of all the cast is so strong to the point it gave me goosebumps! I was hugely impressed with the accents, harmonies and just all-round performance of each character when singing they really showed how they connected to their characters and really brought it to life even bringing tears to a few people's eyes in the audience! Megan Llewellyn who played Mother Abbess really has some lungs on her and to also show that kind of motherly, caring and older/wiser character really touched people's hearts and made her presence on stage feel more meaningful and warm but also to create those kinds of sounds is just magnificent!
How Liesl (Nicole Farrar) carried herself throughout the whole show and really played up to her older sister character was captivating. And to learn that this is her first proper professional show since graduating shocks me as I can see her going very far in the musical theatre acting industry, so keep an eye out for her she's unmissable. One of her co cast members Michael Anderson who plays Rolf Gruber was another one who shocked me! The way that those two worked together and portrayed the magic in their young budding relationship through dance really shone through with the connection they had and the passion in their moves instead of making it just another dance piece to pass time! My hats off to the choreographer and director for finding this perfect and well trained match who dance phenomenally, but also for adding different styles and movements from the original making it more intense and really capturing the meaning of their meeting.
All the children played adorably well and even kept their professionalism which, no offence, I was waiting to catch them out on. Little Gretel really pulled on my heart strings everytime she appeared but my favourite of all has to be Brigitta. If you know the story you know what Brigitta is like as a character, however who I watched play her completed it well and stood out more for what she's best known for and how she calls everything out as it is and I think that was a really important part for me to witness. Such a subtle little change but much needed. Last but not least the main characters of the show Maria (Emilie Fleming) and Captain Von Trapp (Andrew Lancel) really fulfilled their roles and executed everything perfectly as could be in my opinion!
The set and props used throughout the show are really well thought right down to the little details and really capture the magnificence of the story and grand scale of it all! For example, the mountains, the Abby and most definitely my favourite the grand staircase in the Von Trapp Family household! The scale and detail used is quite breath-taking and really adds to the era and country the musical is set in.
Overall, I was blown away by the whole cast that I watched perform tonight and the performance each and every one of them gave was truly professional and amazing! A massive well done to them all and the lighting, sound, set and design, directors and everyone else that's been involved for creating such a magnificent show.
I highly recommend coming to watch this especially if you're a massive fan like myself! I would open this to families however young children may get unsettled and or bored as it's a more mature musical as I witnessed a few unsettled younger children myself. However, if they are into this kind of thing then definitely bring them along! It's not only a musical but it's also a true story and a piece of history that all can learn from. This has most certainly been a pleasure to review and a clear five-star show.
Reviewer: Katrina Brown
Reviewed: 18th February 2020
North West End UK Rating: ★★★★★