My fondness for musicals and murder mysteries meant I just had to see Murder Mystery Musical 'Curtains' - finished by lyricist John Kander in 2006, just two years after the death of his writing partner; Fred Ebb, the pair were responsible for mega-musicals like Cabaret & Chicago - another reason to go!
Curtains tells the story of a Broadway-Bound musical cast who become murder suspects after the unexpected death of the leading lady; Jessica Cranshaw.
Local Detective and theatre fan; Frank Cioffi (played by Jason Manford) arrives on the scene to solve the case and interrogate to cast while feeling the need to try and save the show. Manford delivered an all round stellar performance with faultless singing, dancing and some very funny gags thrown in for good measure. I've only seen Manford at his Stand Up shows prior to this and couldn't get over the transformation, very impressed.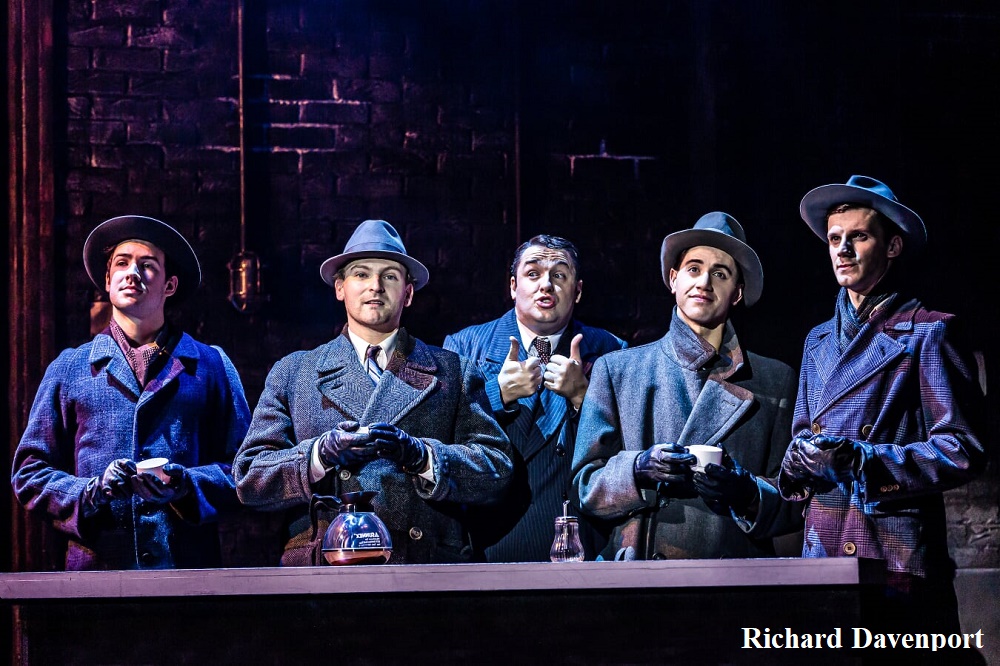 The entire cast are excellent and work incredibly hard throughout; all give 110% from start to finish, and that's a long time due to the shows 2 hour 40 minute runtime.
Rebecca Lock as Producer Carmen Bernstein is fabulous, Samuel Holmes who plays the Director has excellent comedic timing and is given some wickedly funny insulting one liners in the script as a result.
Hollyoak's Star Carley Stenson plays Georgie Hendricks and delivers stellar vocals as does the ensemble, and Strictly star; Ore Oduba dazzles on stage, shame his role was only quite small as he proved a hit with the audience.
The production is very slick and will keep you entertained throughout (even though it's longer than most), written by Robert Holmes - the story thankfully has a couple of twists and turns that you won't be expecting, something you would actually expect from a murder mystery. The Kander & Ebb songs have a distinct traditional feel and are given extra bravado with a 9-piece band backing the ensemble. There are a couple of very funny numbers in the show; 'What Kind of Man' cleverly changes from a rant about a theatre critic into a love ballad for them. 'The Woman is Dead' is perhaps the best of the bunch as it uses the revelation of the murder as a drama warm up exercise and it's sure to make you chuckle. Other songs however are easily forgettable and at times the show does drag a little but Director; Paul Foster does his upmost to keep the show energetic and entertaining.
Curtains is a production full of humour and nostalgia- it's not ground-breaking and perhaps will not live up to other Kander & Ebb Musicals, but it will entertain you and make you chuckle.
Verdict: Entertains from start to finish with a talented cast.
Reviewer: Max Eden
Reviewed: 3rd March 2020
North West End UK Rating: ★★★★