The scene is set. It's the 1940s in Baltimore and an anxious cast awaits the opening night of their musical version of Mr Shakespeare's The Taming of the Shrew. In true theatrical fashion, not all goes to plan and the frivolity of the musical is outshined by the shenanigans that occur off stage, behind the scenes. Lilli Vanessi, played by the wonderful Jeni Bern, is starring in her ex-husband Mr Fred Graham's show, played by Quirjin de Land, who just so happens to take a fancy for the showgirl turned 'serious actor' Lois Lane, played by the beautifully talented Amelia Adams-Pearce. As if this wasn't dramatic enough, Lois's no-good gambler boyfriend Bill Calhoun, played by Alan Burkitt, has racked up a shocking amount of debt that he purposefully frames Mr Graham for, resulting in a not-so-intimidating pair of gangsters, played by the brilliant Joseph Shovelton and John Savournin, to collect his debt.
The Welsh National Opera bring Cole Porter's Kiss Me, Kate beautifully to life with feel-good, recognisable songs from the off and with the energy and gusto one would expect from such a production. Without surprise, 'Brush Up Your Shakespeare', 'Another Op'nin', Another Show' and 'Always True To You, In My Fashion' appeared to be crowd favourites at the Liverpool Empire Theatre with the Shovelton and Savourinin in particular receiving rapturous applause.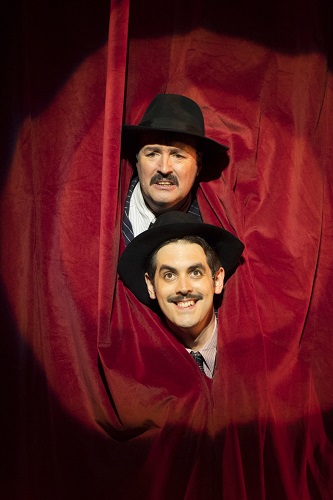 All songs were complemented well with complex and energetic dance sequences. Although hectic on stage, the choreography never appeared clumsy or mismanaged which must be commended, and special mention should be given to Burkitt for his charming and impressively extensive tap sequence.
The talent and calibre of the cast is unquestionable and was continuously proven throughout due to the exhaustive dance sequences and vocal acrobatics that were performed.
Unfortunately, the performance ran on for over three hours as opposed to the 2 hours and 50 minutes that was suggested which made the performance a little longer than is comfortable and necessary however the energy of the cast made up for the length of the show. Also, the loud bangs provided by the novelty guns on stage certainly kept people's attention; however, a health and safety warning may have been necessary for the more mature members of the audience (I did notice a few members involuntarily jumping out of their seats).
With everything being said, it's a charming musical and an enjoyable watch, family friendly with little to fault. It runs on the Liverpool Empire stage until Friday 7th October so grab tickets while you can.
Reviewer: Sarah Goldsmith
Reviewed: 5th October 2016
North West End Rating: ★★★★
Photo: Richard Hubert Smith