I feel very much overdressed this evening in t-shirt and a pair of jeans; while walking to the Empire Theatre in Liverpool city centre, unnoticed a lot of people in stocking and suspenders, my first thought was they must be cold, with pumpkins on sale and a frost in the air, it's a hell of a commitment.
But these fans are committed, I am of course here to see The Rocky Horror Show, an institution of weird and wonderful which has been around over 40 years but when something has been as well loved and cherished as Rocky Horror, will this production live up to standards set by both stage and film?
As the show opens, an ice cream seller appears and bursts into song in front of the curtain and within seconds the audience are swaying and singing along and as she pulls back the curtain and reveals the stage; the audience are loud and very excitable.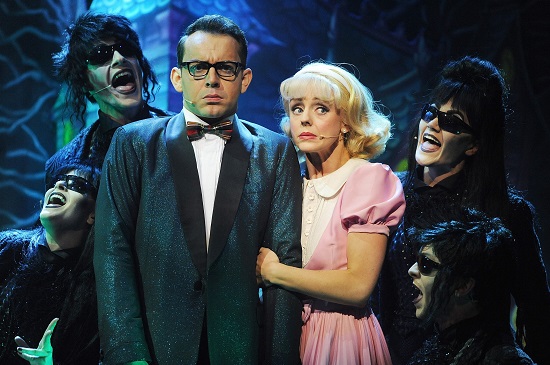 We find Janet and Brad in their car following a friends wedding, on first impression the stage is a little basic and felt like a backdrop from a pantomime but there was nothing pantomime about the performers; Janet played by Haley Flaherty and Brad played by Richard Meek are funny and entertaining as the worried couple with a flat tyre on a rainy night, and as Steve Punt narrates us through the story, complete with a big performer who isn't listed in the programme or on the posters outside; the audience!
The audience make this show, with wise cracks and heckles which make me laugh out loud, the audience is fantastic, complete in lavish outfits and full of wit, some gags better than the script itself. As Janet and Brad reach the castle, they are greeted by Riff Raff played by Kristian Lavercombe and then things get a little crazy, I don't want to give it away. Lavercombe plays the character differently to the 1975 movie where the creator; Richard O'Brien took on this role for the big screen, but you don't want a movie replica when you go to the theatre, you want something different but still with the familiar songs and plot and that's what they do, it's familiar but different.
The main role is perhaps Frank N Furter which is played extremely well by Liam Tamne and manages to create a buzz and air of fun, my only gripe would be that this production does include a lot of lewd reference, more so than any other production of The Rocky Horror Show I've seen, at times I think they took it to far, too many gestures of oral sex for my liking, the film was mild compared to this, Paul Cattermole plays Eddie and Dr Scott, and most will know Paul best from being one seventh of S Club 7 but I think he has a long future ahead of him in Musical theatre, his vocals were good and he had a great stage presence, as did Magenta, played by Kay Murphy, although I felt a lack of rapoir with Lavercombe's Riff Raff.
I have seen this production one and half times now as unfortunately on press night in Liverpool, the show had to end after the first half due to technical difficulties, on my second time at the show, I actually enjoyed it more than the first, this show really does grow on you. It's a night of weird and wonderful and I enjoyed every crazy minute, now let's do the time warp again!
Put your hands on your hips, because you're in for one hell of a ride!
Reviewer: Max Eden
Reviewed: 20th October 2016
North West End Rating: ★★★★
Photo: Dave Hogan