Another trip to the fabulous Empire Theatre in Liverpool this evening – they really know how to take care of their guests.

I'm just going to jump right in to the main event... I've have seen this show several times but always enjoy seeing it with a new cast and this was no exception – the casting was excellent and each actor played their character well.
I particularly enjoyed the performances by Billy Cullum as 'narrator' Mark Cohen – his story telling and vocals were superb and his dance ability (something you don't often see with this character) showed through in 'Contact' and by Ryan O'Gorman who portrayed down on his luck Tom Collins whose acting and vocals were second to none – his performance of 'Cover Me' reprise was just sublime - and once again, who showed he could move when it was needed. Ross Hunter who played Roger Davis gave a wonderfully soft interpretation of 'Your Eyes' which can sometimes be overdone but felt in this case, was spot on.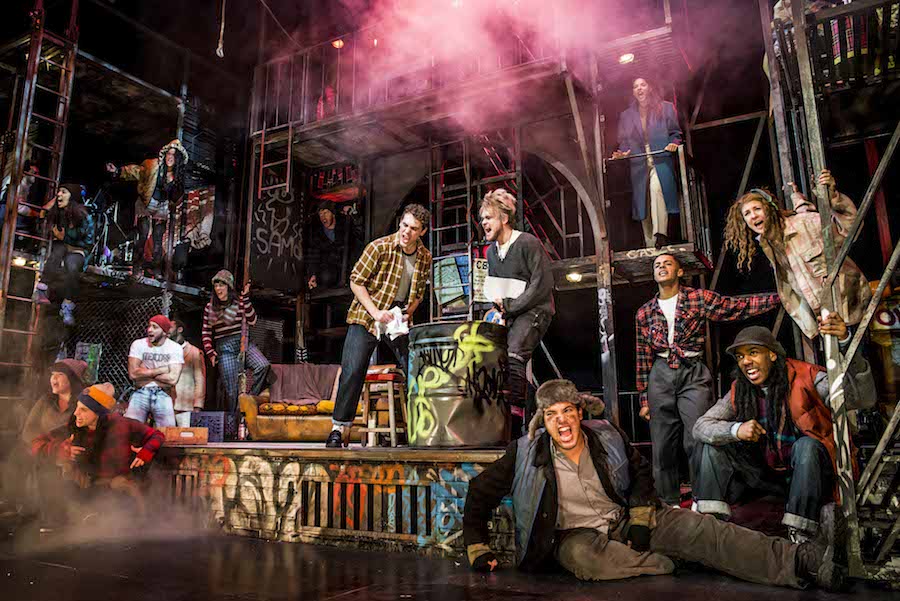 There was no-one on that stage that didn't deserve to be there and the whole company seemed to enjoy what they were doing. Just in case you haven't seen it, I won't give anything away, but I can say, I wept through the second half (yes, all the way through)!
I really enjoyed that second half opener 'Seasons of Love' and the vocal talents of Jenny O'Leary as one of the female soloists –what a set of pipes that young lady has.
The small, but fantastic orchestra was placed at the side of the stage hidden by the set and were super. There were no problems with not being able to hear the performers at all... Voices and instruments blended well.
I did feel that in a few places there was a little too much choreography for this piece of theatre although I did enjoy some of the 'street dance' sections and the 'Tango' and 'Contact' were fantastic – well done.

Set design was superb and sound did well for a first night, with only a couple of late microphone hiccups. I do feel however, there were certain points that there could have been a little more light – sometimes, even the lighter scenes seemed darker.
Not much in the way of specialist hair and make-up is needed in this show however some of the more weird hair do's in 'La Vie Bohème' were definitely fun and the costumes were very good.
This is a strong piece of theatre that will make you laugh and cry and if you haven't yet seen it, then I encourage you to do so however, two pieces of advice – tissues (and lots of them), and don't wait until tomorrow as 'There's no day but today'.
Enjoy the rest of your run guys, you certainly deserve the praise.
Reviewer: Hazel Bumby
Reviewed: 28th February 2017
North West End Rating: ★★★★