There are some films which become iconic and can be recalled in an instance just from one scene; from Grease's funfair scene to Mary Poppin's flying umbrella, it becomes etched into popular culture.
The 1990 film; Ghost is another of these icons, with that incredible pottery wheel scene which no one can forget, a film which is highly regarded by all who have seen it, so when I got the chance to see the latest musical version at Liverpool Empire; I hopped, jumped and sang at the chance.
I must say, after see the show, my first thought is Ghost on stage is so much better than on film, it has so much more emotion, depth and sincerity.
Andy Moss takes on the lead role of Sam with Carolyn Maitland as his girlfriend; Molly. Both actors have great chemistry on stage which is evident straight away in musical numbers; Here Right Now and later on performing Hold On. Maitland's version of 'With You' brought me to tears with a tender and yet still powerful rendition.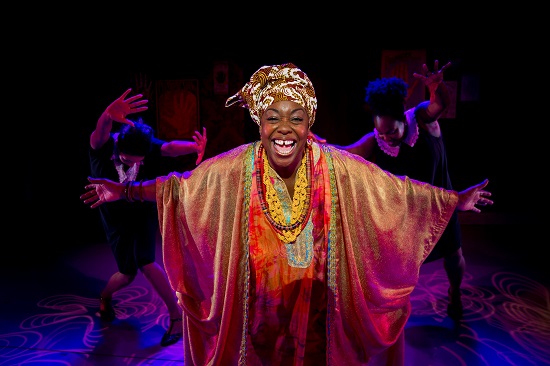 The story of Ghost in a nutshell is Sam getting into contact with his girlfriend Molly after his death to warn her that all is not what it seems and there is some weird and wonderful encounters along the way, none get weirder than the Subway Ghost played by the electric Garry Lee Netley who shined tonight in the role with a great flair and unique style about him. The entire cast are extremely talented and I would mention them all if I could, Sam Ferriday must be mentioned for a first rate performance as Sam's friend Carl and Ferriday successfully manages to leave the audience in suspense throughout, which can be tricky.
Now with Ghost coming from the big screen to the boards, there are some pretty big shoes to fill and they don't get much bigger than Whoppi Goldberg but it thrills me to say that Jacqui Dubois filled them shoes, and then some! Dubois is just mesmerising as Oda Mae, playing the character with just enough humour and feistiness and she really did stand out for me, what are the chances of a Oda Mae spin off, let's make it happen people.
Special mention on this show should also go to the illusions for which we have Richard Pinner to thank for. I do truly love in theatre when you don't know how things have unfolded in front of your eyes, the secrets of the production, it's fantastic to watch and added a new layer to the show.
This production really tugs at every heart string you've got, I can say hand on heart; I haven't cried more at the theatre than at this show; the passion and emotion is so raw, so tender, so beautiful! What a show, to compare this to the film is an injustice, this live production is miles better.
Verdict: I believe...I believe I've found the perfect musical!
Reviewer: Max Eden
Reviewed: 10th April 2017
North West End Rating: ★★★★★