The Lonesome West is the final part of contemporary Irish playwright Martin McDonagh's 'Connemara trilogy', set in a fictionalised and impoverished west of Ireland village called Leenane, that bears some resemblance to reality it must be noted, where the Catholic Church, a mainstay of most communities, is largely irrelevant in a place that has its own sense of right and wrong as the conundrum that makes up life and death comes under close examination.
McDonagh is perhaps more widely known for his screenplay 'In Bruges', and this play shares the same combination of farce, aggression, and wit, as we follow two brothers, Valene (Paul Duckworth) and Coleman (Keiran Cunningham), who live alone in their father's house following his recent death in a shotgun 'accident'. Their existence is fuelled by their petty squabbling over who owns what, whose turn it is to read the magazine, and who left the lid off the pen, all of which threaten to break out into violence at every turn. The local priest, Father Welsh (Alan Devally), an outsider, is desperate to reconcile the two and as he struggles to come to terms with the impotence of his position in the village, he slowly sinks into alcoholism, the local poteen supplies peddled by the young Girleen (Anne O'Riordan).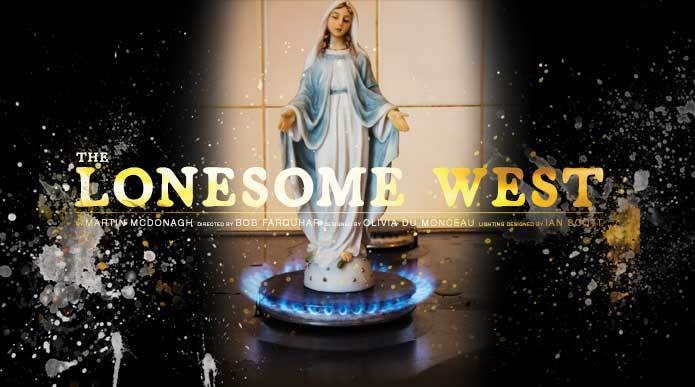 The sudden death and apparent suicide of local Garda Thomas Hanlon offers the two brothers an apparent break from their mundane lives: Valene's love of religious figurines and drinking poteen, and Coleman's only real interest: eating - although the impending funeral does offer the chance for some free sausage rolls and vol-au-vents. It is only a matter of time however before their darker sides return leaving the priest at his wits end. Another untimely death brings other issues to the fore as the brothers endeavour to reconcile their past differences, at the written request of the priest, although any agreements are shrouded by their own twisted moral sense of heaven and hell.
With much of the action taking place in the brothers' cottage, wonderfully designed by Olivia du Monceau, it is easy to be drawn into the frenzied caricatures of the brothers – two older men in an isolated community with no understanding of or interest in a world beyond their very own four walls – and this blackly comic portrayal of modern, rural Ireland is delivered with great aplomb by Cunningham and Duckworth. Yet there is a deeper aspect to this play which director Robert Farquhar sensitively coaxes out in the scene at the side of the lake with Devally excelling as the priest forced to confront his own shortcomings and those of the church he serves whilst O'Riordan's bold young girl gently hints at a softer side and desires which will likely remain under wraps and forever unfulfilled in this world within a world.
The Lonesome West is performing at Liverpool's Royal Court through to 20th May 2017. I can guarantee you laugh out-loud entertainment but I would challenge you to look that little bit closer as well – you never know what you may find with this rare gem of a play. Tickets are priced from £13 and are available at http://www.royalcourtliverpool.co.uk/whats-on/the-lonesome-west/ or via the Box Office on 0151 709 4321.
The Royal Court formally opened in 1881 but following a fire, it was rebuilt in its current Art Deco style, opening in 1938 and was Grade II listed in 1990. It has an audience capacity of almost 1,200 and since 2007 has focused on producing its own theatre which has included several celebrated plays. Further details on forthcoming productions http://www.royalcourtliverpool.co.uk/
Reviewer: Mark Davoren
Date: 22nd April 2017
North West End Rating: ★★★★