Based on the 2000 hit movie, we follow the journey of a young boys dream to become a professional ballet dancer during the 1984-85 coal miner's strike in the North East of England.
This musicals theme is deep but a lot can be compared to what is happening right now in this day and age. Although a serious theme the show is filled with humour and comedy.
Within the first couple of minutes you knew this was going to be something spectacular, from what looked to be a pretty bare stage, the most amazing set appeared, seemingly from nowhere. It was hard to believe we were sat in the Liverpool Empire as we were taken on a wonderful journey. Set designer Ian Macneil has done a sterling job with this set. Well done.
The music in this show is so important to the story and Elton John and Lee Hall have created an absolute masterpiece here.
Dance is a huge part of the show and Peter Darling has done an overwhelming good job on choreography. Routines such as Solidarity were genius, girls learning ballet between police and miners fighting, two separate stories mixed in to one routine. Phenomenal.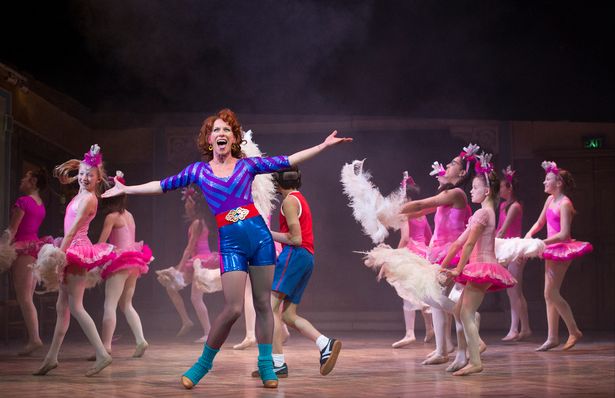 Our Billy for tonight was Adam Abbou and wow what a talent this boy is. At just 13, Abbou held the audience in the palm of his hand. His accent was perfect and what a voice. But his dancing was something else, so much passion and energy. There was fire in his belly and he meant business. Two standout routines were The Angry Dance and Electricity where we gave absolutely everything and had audience members on their feet both times.
Billy's dance teacher, Mrs Wilkinson, was played by the hugely talented Anna-Jane Casey who brought her years of experience to the forefront with this phenomenal portrayal. Shine was a joy to witness and Born to Boogie with Mr Braithwaite, played by Daniel Page was genius. Page brought a great deal of humour to the role and some very impressive dance moves including the splits and some first class tap dancing while skipping with a rope.
Billy's best friend Michael, played by Bradley Mayfield was phenomenal. His comic timing was perfect and he knew how to work the audience. When the two performed Expressing Yourself it was jaw dropping, the tap dancing was absolutely effortless yet intricate and complex. Inspiring.
Billy's dad and Brother Tony, Martin Walsh and Scott Garnham were full of passion and anger. Being a miner on strike for so long creates pressure and tension and they portrayed perfectly. On occasions you seen there soft sides which showed depth in the character very well. Andrea Millet delivered a wonderful Grandma, giving a lovely version of Grandmas song.
The breath-taking scene where Billy and Older Billy dance together to Swan Lake was mesmerising. The stage was completely empty but for the two dancers but filled with so much passion and emotion it was astounding. Luke Cinque-White as older Billy was just stunning in every dance move he made.
This whole cast, in my opinion, were possibly the best cast I've ever seen in a show, working together perfectly to deliver a top class performance.
This musical is an electric, emotional and spectacular piece of theatre with an enormous heart.
If you can get a ticket, you need to see this show. Running until Saturday 27th May. http://www.atgtickets.com/shows/billy-elliot/liverpool-empire/
Reviewer Damian Riverol
Reviewed: 11th May 2017
North West End Rating: ★★★★★